One of the 1st Americans
to earn his blackbelt from Royler Gracie.
Only School in Northern NJ
that teaches a self-defense class from the
original Gracie Academy curriculum in Brazil.
Featured in MMA Publications
technique pages featuring Professor Savarese.
Savarese BJJ Northern New Jersey's top Brazilian Jiu-Jitsu Academy
At our Lyndhurst Martial Arts Academy, our adult students usually fall into 3 general categories or a combination of the following:
There is the person or ex HS athlete who is looking to learn how to fight more effectively and wants to to compete.
There is the person who wants to learn how to defend themselves and their family confidently in a dangerous situation.
Then there's the person who is looking for a workout that pushes them beyond the typical gym fitness class .
Regardless of your motivation and reasons for wanting to train, our experienced and professional staff will help you find the right fit.
At Savarese BJJ, Northern New Jersey's top Brazilian Jiu-Jitsu Academy, we have some of the best BJJ instructors in NJ. All have been trained in every aspect of BJJ. ALL of our instructors trained with us and by us. Every single one was a student here first.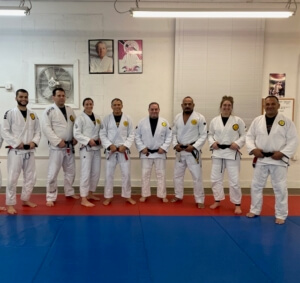 Just like progressive academic schools do not teach all students with just one learning method, neither should a martial arts school assume that one style fits all. Maybe you're someone who is athletic and is looking for a new challenge, and needs classes that demand higher intensity and challenge. Maybe you're someone who is just looking to get 'off the couch' and you've tried joining this or that fitness class or gym and it's just not working for you. What you'll find at Savarese BJJ is that the style of martial art is secondary to your goals as a person.
Are you looking to learn self-defense in a fun and friendly environment? Do you want to get in shape and be active? Do you want to give yourself the confidence to handle physical situations?Is Brazilian Jiu-Jitsu for you? Should you try the Gracie Jiu-Jitsu Self Defense classes? Or you over 40 and don't want to train live? We have executive and Self Defense classes for you.  These are questions you will answer for yourself once you get some time to meet with our staff and try out some classes.
Once you train with our professional instructors as well as mixing with other Lyndhurst BJJ students, you'll know within a very short amount of time what the right fit for you is. and our instructors are here to answer questions and help – just like they've done for hundreds of other students.
Voted 2022 Martial Arts school of the year for 9th straight year!
Professor Savarese inducted into Hall Of Fame
Savarese Jiu Jitsu is Bergen County & Northern New Jersey's top Brazilian Jiu Jitsu and martial arts school that offers practical self defense training in a relaxed, family atmosphere. Savarese Jiu Jitsu Academy has facilities located in Lyndhurst, Pequannock and Jersey City NJ. Students learn techniques to build their self esteem, get a great work out, and most importantly, defend themselves. Our Lyndhurst Martial Arts Academy is widely considered by those in the industry to be not only one of the best in NJ, but one of the best in the USA.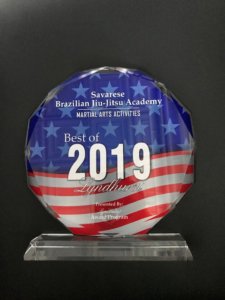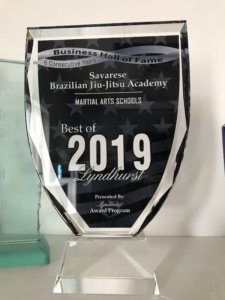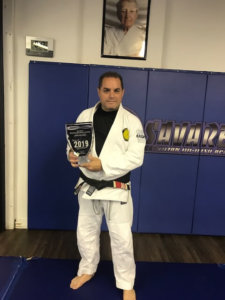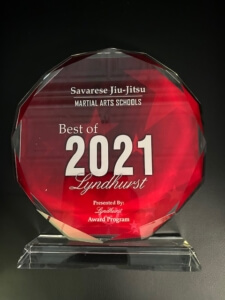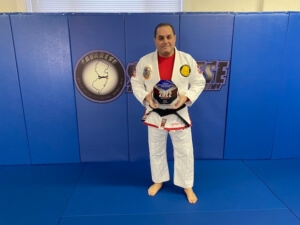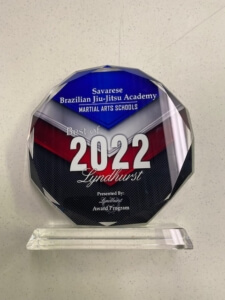 Award winning Kid's Program
In the Kids Brazilian Jiu Jitsu Class children learn how to defend themselves with practical techniques that benefit smaller practitioners. They learn to build confidence, de-escalate dangerous situations, and most importantly how to avoid fights before they happen.
Our lineage traces to creators of Jiu-Jitsu
Savarese BJJ encourages you to do your research when choosing a BJJ/grappling academy. Learn about the instructor's belt lineage and credentials. See if their lineage traces back to the Gracie Family, the creators of the art of Brazilian Jiu-Jitsu.
The benefits our New Jersey Brazilian Jiu-Jitsu and Self Defense programs are endless! A greater sense of self leads to positive results in a world full of challenges. Our staff's lineage goes directly back to the Gracie Family who created the art. Teach your children that perseverance wins over any obstacle in life, and let our program prove it to them! Develop functional muscles, not bulky, do-nothing muscles! The life of every person in our program who has been training for more than a year has been changed dramatically! If you want to join the fastest growing BJJ Academy on the East Coast, Savarese BJJ is waiting for you! WHAT ARE YOU WAITING FOR?
I've known Chris "Sav" Savarese for well over 10 years. His devotion and dedication to Brazilian Jiu-Jitsu has been demonstrated for many years and has made him one of the most recognizable Jiu-Jitsu personalities on the East Coast. Now that Chris has decided to spread his knowledge of Jiu-Jitsu, I believe it would be a great opporntunity for anyone who has the chance to check out Chris' Academy and train w/ a true Jiu-Jitsu Champion and innovator.
Mike Codella
Renzo Gracie Blackbelt · Owner Codella BJJ Academy
http://www.codellaacademy.com
–
Codella BJJ Academy
How many people can say that they have received their Black Belt from a member of the prestigious Gracie Family? How many people in Gracie Jiu-Jitsu can claim that they have trained under the watchful eye of a Gracie family member for years? Chris "Sav" Savarese is one of the few that can answer yes to both of these questions. "Sav" as people in the know call him, is one of the most involved and concerned instructors I have had the pleasure of knowing. Its a pleasure to be his friend. He has a passion for teaching and the sport of Gracie Jiu-Jitsu like few Instructors.
"Sav" understands the heritage of Gracie Jiu-Jitsu, but he also understands that the big difference between a good instructor and great instructor is the attention to the details. His students in a short amount of time are placing in some of the most prestigious tournaments in the United States. If your within driving distance or like myself over an hour away make the trip to train with him. You will not be disappointed.
Marco Perazzo
Co-Owner of New Jersey Martial Arts
http://www.njmaonline.com
–
www.njmaonline.com
Chris Savarese is, in my opinion, one of the top instructors/coaches in the USA today. Sav has a great mind for jiu-jitsu and I've spent alot of time exchanging ideas and moves with him. He has been my coach/corner for some of my matches and has helped me alot over the years. I always call him for strategic advise and gameplans before my matches. His school is the place I train when I am on the East Coast and I highly recommend it to anyone. His knowledge is priceless and so is his love for BJJ. He is a true professor of BJJ.
Jeff Glover
Paragon BJJ blackbelt · 2 x Pan American Champion · 18 x Grapplers Quest champion
I have been friends and training partners with Sav for many years, he has alot of knowledege to share and has helped me prepare gameplans for many of my jiu-jitsu/grappling competitions and mma fights. He is great coach to learn from and have in your corner. I recommend him to anyone, you won't be disappointed, he really cares for others well-being.
Joe D'Arce
Renzo Gracie black belt · Multiple Time Pan Am Champ
http://darcebjj.com/
–
www.darcebjj.com
Chris is a tremendous practitioner and teacher of BJJ and Submission Grappling. Chris's skills, talents and abilities lend to a well organized school were the emphasis is on learning. His classes are structured, well thought out and taught in a highly proficient manner. Chris teaches in a step by step methodical manner allowing students of all levels to grasp his teaching. His students are hard working, disciplined and work together to lend to a family like atmosphere. I am extremely honored and proud to train with Chris and his students.
Brian Long
6th Degree Black Belt Goshin-Do-Kempo · Nagai Ryu Karate · Samurai Nagai Ryu Jiu-Jitsu · Brown Belt BJJ and Submission Grappling · 15 Year High School Wrestling Coach
http://www.shihanboblong.com/
–
www.shihanboblong.com
Sav has been involved in Brazilian Jiu-Jitsu for as long as I can remember and his BJJ resume is as extensive as it gets: Not only has he been a competitor, a teacher, a coach, a promoter, a matchmaker, a referee, and a sponsor, but he also has a black belt! Sav knows the sport from every angle. For me, one of the things that has always stood out the most about Sav is his passionate dedication to his people – be they teammates, students, or friends from other teams. This is the guy you want in your corner.
Whether you want to get in shape while learning some practical self defense or train to be a top competitor, Sav will guide you to your goals.
I've known Sav for over 10 years and he is one of the most devoted Brazilian Jiu Jitsu enthusiasts I know. Not only does he have a tremendous amount of knowledge and talent, but he has a greater desire to help others and the sport grow. Undoubtedly, the sport would not be where it is today without his help. I am but one of many people who have benefited from Sav's knowledge and generosity.
Todd Margolis
Brazilian Jiu Jitsu Black Belt · Team Lloyd Irvin · 2x Pan Am Silver Medalist · Abu Dhabi Competitor · 5x Grappler's Quest Champion · Maryland State Wrestling Champion
Chris "Sav" Savarese is a great instructor and coach who has dedicated himself to teaching the art of Brazilian Jiu-Jitsu. Sav has a ton of experience training under some of the best instructors in the world. After taking one class at w/ him, I'm sure you will be impressed with his teaching skills and his love for Jiu-Jitsu. Every student that walks through the door will receive hands on instruction, whether it is their first Jiu-Jitsu class or they are a seasoned competitor.
When I first got to know Sav, he instantly had an impact on my progression in Jiu-Jitsu. Sav has a great way of breaking down moves and positions which allows you to not only learn a technique, but more importantly to truely understand the concept and its application in Jiu-Jitsu. Sav also has a great sense of knowing what techniques will be the most beneficial to each student's "style" of Jiu-Jitsu, as different students have different body types and physical attributes.
I highly recommend Chris Savarese as an instructor to anyone looking to learn the art of Brazilian Jiu-Jitsu.
Jay Hayes
BJJ Black Belt · 2007 Pan American Gold Medalist · 5x Grapplers Quest Champion