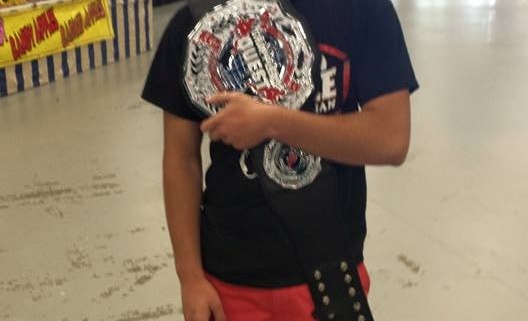 North Arlington High School student wins Jiu-Jitsu competition
Leo Alves, a North Arlington High School student wins Jiu-Jitsu competition last weekend at the Big apple Open in NYC. Alves, a 16 yr old phenom training out of the Savarese Brazilian Jiu-Jitsu (BJJ) Academy in Lyndhurst, won all of his matches by submission (tapout). Professor Chris Savarese,  a 2nd degree BJJ blackbelt who is one of the first American under Royler Gracie to receive a blackbelt, says the sky is the limit for Alves.  The goal for Alves is to compete in the World BJJ Championships next year in California so look out for Alves on the competition circuit in the next year. Keep up the great work Leo!
What is Brazilian Jiu-Jitsu?
Jiu means "gentle, supple, flexible, pliable, or yielding." Jitsu means "art" or "technique" and represents manipulating the opponent's force against himself rather than confronting it with one's own force. It's based on clinching and grappling techniques that utilize leverage, proper technique and timing as its principles. Gracie or Brazilian Jiu-Jitsu was created and developed by Carlos and his brother Helio Gracie in the early 20's in Brazil.
For 80 years, the Gracie family proved through no-holds barred matches against heavier and bigger opponents that Brazilian Jiu-Jitsu was the most efficient form of Self-Defense there is. BJJ, as it's also known, it's now practiced by every professional mixed martial artist in the world and is the primary form of Self-Defense taught to the military of many countries around the world and police forces everywhere.
BJJ training can be used for street self-defense (anti–bullying, rape prevention, law enforcement) and sport grappling tournaments. The philosophy behind Jiu-Jitsu's success lays in the following strategy:
– Close the distance and clinch;
– Take the attacker/opponent to the ground;
– Establish a safe and dominant position;
– Finish the fight with the application of chokes or joint locks.
Savarese BJJ Academy is not only one of the top jiu-jitsu schools in bergen County NJ but in the country. If you are interested in trying a free class, call 201 933-5134 or email professorsav@savtransfer.wpengine.com for more details.
https://www.njbjj.com/wp-content/uploads/2015/05/Leo-belt.jpg
960
528
savarese
https://njbjj.com/wp-content/uploads/2016/02/Sav-Login-Logo-300x113.png
savarese
2015-05-13 16:53:45
2016-03-31 12:26:31
North Arlington High School student wins Jiu-Jitsu competition