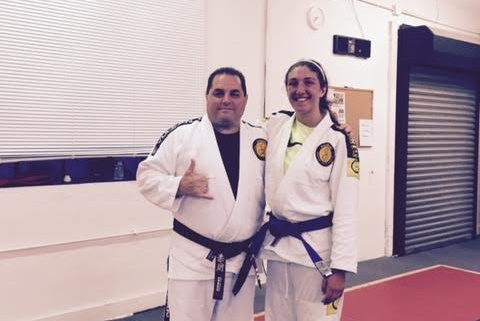 Arianna Zeppetelli receives bluebelt at Lyndhurst Martial Arts school
Arianna Zeppetelli receives bluebelt at Lyndhurst Martial Arts school Savarese Brazilian Jiu-Jitsu tonight. Professor Chris Savarese, a 2nd degree blackbelt was thrilled for her. This was a special promotion because Ari started in our kids program and is the best kid to ever come out of our program. She couldn't receive a bluebelt until 16 yrs old but she has been patient and kept improving and improving and even helps with our kids program. I couldn't possibly be prouder of a student, she embodies everything BJJ is about. Her future is as bright as she wants it to be. Congrats Ari!!
Jiu-Jitsu
Jiu-Jitsu, which is said to date back all the way to the 3rd and 8th Centuries in India and China, respectively, is a grappling themed martial art that relies on leverage to bring an opponent to the ground. Once on the ground the main premise of Jiu Jitsu is to apply positional control that leads to submission, most commonly chokes or joint locks. By the end of the 19th Century, the martial art had become a means for self-defense and was widely popularized by a man by the name of Mitsuya Maeda. Maeda was recognized for fighting any willing opponent just to prove the effectiveness and efficiency of his martial art.
After traveling the world teaching and spreading Jiu Jitsu, Maeda finally made his way to Brazil in the early 1900's and changed the face of fighting forever. Maeda, once in Brazil, began teaching his Jiu Jitsu and spreading it to many people throughout the country, one family that took great notice was the Gracie family. Carlos Gracie, as well as his younger brother Helio Gracie, are widely acknowledged as the pioneers of contemporary Jiu Jitsu. The Gracie Brothers began to adapt the techniques taught by Maeda into a finely polished, leverage based art that can now be practiced and perfected by everyone, weak or strong. Because of the popularization of Jiu Jitsu in Brazil during the beginning of the 20th Century, the art is most commonly known as Brazilian Jiu-Jitsu, or BJJ.
If you w0uld like to learn Brazilian Jiu-Jitsu, contact the Savarese BJJ Academy, located on Park Ave in Lyndhurst for a free trail class by calling 201 933-5134 or emailing professorsav@savtransfer.wpengine.com
https://www.njbjj.com/wp-content/uploads/2015/07/Ari-blue.jpg
640
480
savarese
https://njbjj.com/wp-content/uploads/2016/02/Sav-Login-Logo-300x113.png
savarese
2015-07-09 01:12:54
2016-03-22 16:11:32
Arianna Zeppetelli receives bluebelt at Lyndhurst Martial Arts school