Bellator contender Lovato teaches at Lyndhurst Academy
Bellator contender Rafael Lovato Jr taught a seminar at the Lyndhurst Academy Savarese BJJ thursday nigh. Lovato, slated to face Gregard Mousassi for the Bellator title early next year, stopped into NJ to teach and train with long-time friend and training partner Chris Savarese, the Academy owner. Over 60 people were in attendance to learn from the 4th degree Jiu-Jitsu blackbelt. Lovato is widely considered one of the top 5 ground specialist in MMA today
Words from the owner
Forgot to post about the awesome Rafael Lovato Jr.seminar at Savarese BJJ Thursday night. Professor Lovato did something a little different this time, answered a lot of questions, stuck to some things we have been stressing on our team and even rolled with most of the students afterwards. It was a great learning experience for everyone. Now time to focus on that Bellator title hunt! Let's go!!!!
Next up for Lovato
Lovato Jr. is coming off a big win of his own in the middleweight division. He submitted John Salter in the third round at Bellator 205 earlier this month to stay unbeaten in his career. The jiu-jitsu specialist said he hoped to get the title shot next and said he felt capturing the belt is "inevitable. I'm putting everything into this, and I feel like I'm in a very special phase of my life right now," Lovato Jr. told MMAjunkie after Bellator 205. "I would love this opportunity and this challenge to fulfill my martial arts destiny and become a world champion."
Mousasi has made it clear he wants his second title defense to come against the unbeaten Rafael Lovato Jr. (9-0 MMA, 5-0 BMMA).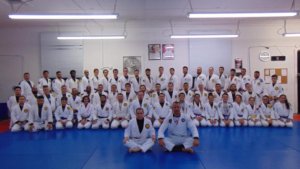 https://www.njbjj.com/wp-content/uploads/2018/10/blackbelts-2018.jpg
1151
2048
savarese
https://njbjj.com/wp-content/uploads/2016/02/Sav-Login-Logo-300x113.png
savarese
2018-10-31 13:51:35
2018-10-31 13:51:35
Bellator contender Lovato teaches at Lyndhurst Academy