Bellator standout teaches in Lyndhurst BJJ Academy
Bellator standout  teaches in Lyndhurst BJJ Academy! Coming off a Bellator 189 victory, standout Rafael Lovato Jr taught at Savarese BJJ Academy thursday night. Lovato defeated contender Chris Honeycutt in a win shown on Spike TV. Savarese BJJ, lead by Professor Chris Savarese, is affilated with the Lovato BJJ Association. Savarese and Lovato are longtime friend and Savarese has cornered Lovato for many of his East Coast events. recently, Savarese also cornered top Lovato student Justin Rader in a Fight To Win main event in Brooklyn. The 2 go back a long way.
Lovato teaches at Savarese BJJ often
Lovato teaches at Savarese BJJ often and has been doing so for almost 8 years now. Professors Lovato and Savarese met at a Grapplers Quest events over 10 years ago through an introduction between friend Jeff Glover and Bill Cooper, who used to train w Savarese when they competed on the East Coast. The 2 wanted to bring Lovato into the mix and the 4 of them spent a couple of years getting together and exchanging ideas and techniques. Lovato and Savarese continued this and remained affilated today.
Savarese promotes 2 blackbelts
Professor Savarese, on a recommendation from Professor Lovato, decided to promote the 2 a month early to everyone's great surprised, making it a special night. Savarese had this to say "Thanks to my good friend Rafael Lovato Jr. for putting on a game changing seminar tonight at my Academy. We have some new systems to work on for months. Hence, the night was even more a special because I promoted 2 of my top students, Newskin Savbjj Danny Lleonart and Anthony Del Guercio to the prestigious rank of BLACKBELT. Congrats to both of you for your discipline, hard work and dedication to constant improvement and setting an example. Oss."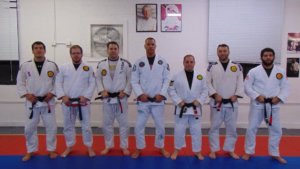 https://www.njbjj.com/wp-content/uploads/2017/12/sem-photo.jpg
724
1288
savarese
https://njbjj.com/wp-content/uploads/2016/02/Sav-Login-Logo-300x113.png
savarese
2017-12-23 11:41:17
2017-12-23 11:41:17
Bellator standout teaches in Lyndhurst BJJ Academy