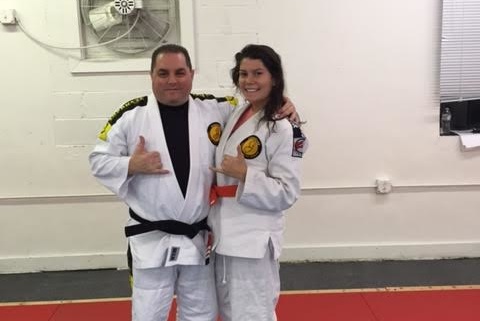 Brazilian Jiu-Jitsu promotion for Kearny High School student
A Brazilian Jiu-Jitsu promotion for Kearny High School student Isabel Doran happened this weekend at Savarese Jiu-Jitsu in Lyndhurst NJ. Doran received her orangebelt from Professor Chris Savarese, her instructor at the School.  The 16 yr old Doran is one of the top ranked teen students at the Lyndhurst jiu-jitsu school. In just over a year of training, Doran has emerged as as one of the best teens and valued member of the school's women's program where she holds her own against the top women in the school. Doran excels at the triangle choke, a submission hold. She is part of an amazing group of teens at the top rated Lyndhurst jiu-jitsu school, who have been winning tournaments all over the country. If you would like to enroll or just watch a class at the Academy, call 201 933-5134 for a free trial class.
About Savarese BJJ Academy
New Jersey Brazilian Jiu-Jitsu School Savarese Brazilian Jiu-Jitsu Academy is located in Lyndhurst and is one of Northern New Jersey's top martial arts schools. They offer practical self defense and jiu-jitsu training in a relaxed, family atmosphere. The 2014 school of the year has students of all ages, from 5 to 64 years old and classes 3x a day, 7 days a week. The top rated Academy is highly regarded in it's community and has a proven curriculum. They have produced World BJJ Champions, won over 10 team titles and are noted for both their adult and kids programs. The owner and head instructor, Professor Chris Savarese, is a 2nd degree blackbelt who received his blackbelt from BJJ legend Royler Gracie of the famous Gracie Family. They are the family who brought Jiu-Jitsu to the US. Founded in 2006 by Savarese, the Savarese Brazilian Jiu Jitsu Academy was opened with one purpose: to better peoples lives on and off the mat through the teaching of Brazilian Jiu-Jitsu. The Academy provides the support, knowledge and experience that allow our members to experience real Gracie Jiu Jitsu in a safe and friendly environment, to the best of their abilities, at their own pace and commitment level. Their doors are open to men, women and children of all ages, shapes and sizes.
https://www.njbjj.com/wp-content/uploads/2015/12/Issy-orange.jpe
640
480
savarese
https://njbjj.com/wp-content/uploads/2016/02/Sav-Login-Logo-300x113.png
savarese
2015-12-11 21:48:04
2016-03-11 17:50:42
Brazilian Jiu-Jitsu promotion for Kearny High School student