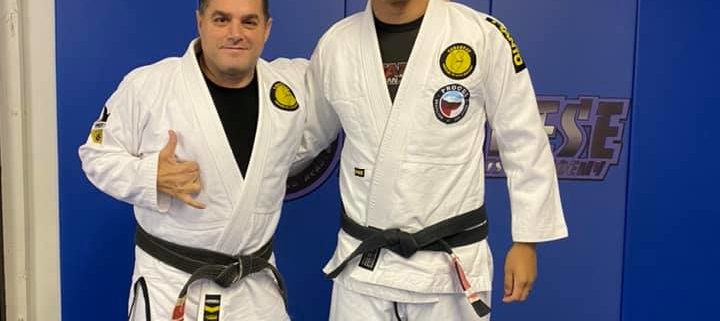 Brian Procel promoted to 1st degree blackbelt
Brian Procel promoted to 1st degree blackbelt bySavarese BJJ owner Chris Savarese on saturday. Savarese had this to say "Crazy weekend and I'm just getting a chance to gather my thoughts and write them down. I had the honor of promoting one of my first students, Professor Brian Procel, to 1st degree blackbelt on Saturday. I woke up Saturday and thought a lot about his journey with me and I was just filled with pride. Brian joined my school as a very young kid and at one point used to ride his skateboard from Jersey City to Lyndhurst every day to train. The left side of the second picture on this post is one of my favorite pictures since I opened my school of Brian winning his first tournament as a 17-year-old kid and the smile on his face is priceless. I watched him grow into a man right before my eyes and about two years ago I begged Brian to think about opening his own school as he had been teaching for a while and I thought he'd be great at it. The say how proud I am of him and what he's done at his school in Jersey City, especially through the trials and tribulations of this year, makes me proud to be his instructor. Continued success Brian on your journey. Oss."
Procel school in Jersey City
Procel has his own school in Jersey City.
Studying martial arts provides you with a physical challenge combined with a mental one – and teaches you to defend yourself, too.
Brazilian Jiu-Jitsu is a unique form of martial arts that teaches students to leverage their body weight to use in the ring or against an attacker. A descendant of Judo, Brazilian Jiu-Jitsu is both a sport and a martial art – and it's fun to learn.
Anyone looking for info, here it is:
procelbjj.com
551-258-0898
procelbjj@gmail.com
189 Brunswick St, Jersey City, NJ 07302, USA
https://www.njbjj.com/wp-content/uploads/2020/09/Brian-1st-degree.jpg
960
720
savarese
https://njbjj.com/wp-content/uploads/2016/02/Sav-Login-Logo-300x113.png
savarese
2020-09-28 10:47:34
2020-10-02 10:37:39
Brian Procel promoted to 1st degree blackbelt