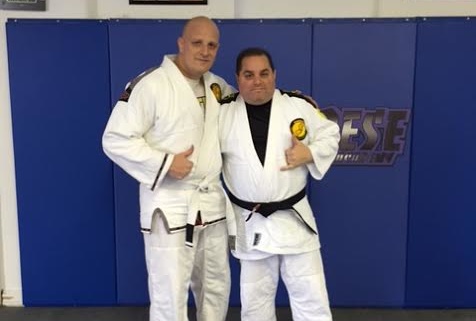 Ed Veccione earns 1st Savarese BJJ promotion
Congrats to Ed Veccione for earning his 1st Savarese BJJ promotion! Veccione was promoted to 1st stripe on his whitebelt, one of the most important promotions because it signals that you are learning. While the white belt is the first belt in Brazilian Jiu Jitsu, it is also the most important. It shows that this person has taken the leap into joining our wonderful art and sport. Ed is improving on his fundamentals and will continue to do so.
Savarese BJJ Academy
The Savarese BJJ Academy, owned and operated by head Jiu Jitsu instructor Prof. Chris Savarese, is located at 40 Park Ave in Lyndhurst NJ and is one of the best BJJ schools in the tri-state area. We routinely win awards for our students and continually aim for greatness. BJJ teaches discipline, self-worth, humility, and the ability to live a healthier life – both on and off of the mats.
If you too are interested in learning self-defense and the sport aspect of Brazilian Jiu Jitsu, contact us for a free trial lesson with an instructor 201 933-5134.
https://www.njbjj.com/wp-content/uploads/2016/05/Ed-1st.jpg
635
476
savarese
https://njbjj.com/wp-content/uploads/2016/02/Sav-Login-Logo-300x113.png
savarese
2016-05-23 13:21:19
2016-06-11 12:19:47
Ed Veccione earns 1st Savarese BJJ promotion