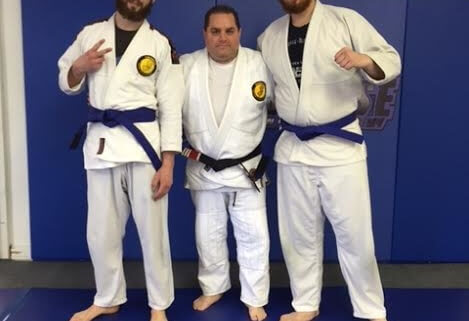 Former Clifton High School Wrestlers earn jiu-jitsu promotion
Corey Peirone and Big Dan Czarnecki, 2 former Clifton High School Wrestlers, earned a jiu-jitsu promotion this saturday. Professor Chris Savarese, a 2nd degree Gracie Jiu-Jitsu blackbelt, promoted the pair after a saturday morning competition team training at his Lyndhurst Jiu-Jitsu Training Facility Savarese Brazilian Jiu-Jitsu Academy. The pair has been training hard for a little over a year and have been making progress. Congrats guys and keep up the great work!
Savarese Brazilian Jiu-Jitsu Academy
Opened in 2006, The Savarese Brazilian Jiu-Jitsu Academy is a highly respected Academy among the the best BJJ Practitioners in the USA. Noted for it's self-defense program and top notch adult and kids programs, many travel from other states just to take classes or private lessons with Professor Savarese. In 2014, it was voted Martial arts school of the year. 2 weekend ago, the Savarese BJJ Competition Team swept the NJBJJF tournament winning team titles in the Adult and Kids divisions. Professor Savarese brings a no nonsense approach to teaching and a family atmosphere to the gym. Students are treated with respect, honor and loyalty. As a student you receive personal attention, you learn great techniques, and most importantly, you have fun doing it. Many of the top competitors in the US have asked Professor Savarese to corner them when competing in the Tri-State area. Professor Savarese is also quick to point out that only 10% of his Academy competes and students range from 5-64 years old. He takes great pride in teaching individuals who didn't start martial arts until a later age and teens who haven't really enjoyed any other sports before. If you are looking to try a martial art, email professorsav@savtransfer.wpengine.com or call 201 933-5134 for a free one on one trial class. No experience is nessecary, in fact, it is actually better because you don't have any bad habits yet. Try a class today!
https://www.njbjj.com/wp-content/uploads/2016/03/cor-and-dan.jpg
625
469
savarese
https://njbjj.com/wp-content/uploads/2016/02/Sav-Login-Logo-300x113.png
savarese
2016-03-08 13:37:27
2016-03-11 17:38:00
Former Clifton High School Wrestlers earn jiu-jitsu promotion