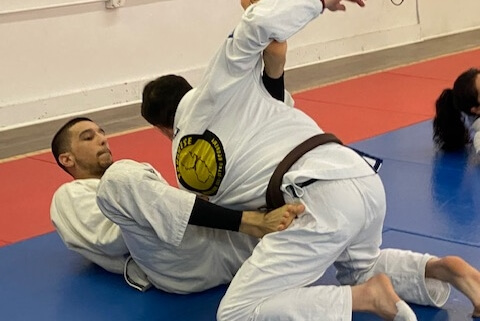 Guard attack theory in BJJ
Wanted to write about guard attack theory in BJJ today. First thing to know is every attack from bottom is first an attack on your opponents stance and balance. There are a thousand ways to attack from bottom position in Jiu-Jitsu, but they all have a common start. Breaking posture. Many times, when your opponents posture is broken, that is where the openings to attack occur. In addition, your opponent can only withstand your attacks and go on to pass your guard when he/she establishes good posture and balance. Therefore, it stands to reason then, that every time you go to attack from bottom position, your first target should be your opponents posture and balance. It doesn't matter what attack you've chosen. When you can snap an opponents hand down to the floor, knock his butt back to the mat, get his head lower than his hips and all those other signs of successful breaking of balance and posture, then you will suddenly find whatever attacks you like are suddenly working much better. In our opinion, for new students to BJJ, it's always best to learn attacks from the closed guard first. You learn the importance of control and then attacks. Once that is learned, you can start to move on to more guards – half guard, Spider guard, lasso guard, deep half guard, butterfly guard etc. Find a guard you are comfortable with and work it for another of months. You will not find success in 2-3 weeks. There is a lot of trial involved in getting better at a guard or developing a game that involves entries, attacks and defense. As a result of this work work, you will see your game get better and better. Good luck!
If you enjoyed this article, always check back at www.njbjj.com for more BJJ advice.
https://www.njbjj.com/wp-content/uploads/2022/07/IMG_1356-rotated.jpg
640
480
savarese
https://njbjj.com/wp-content/uploads/2016/02/Sav-Login-Logo-300x113.png
savarese
2022-07-08 07:00:25
2022-07-07 11:58:11
Guard attack theory in BJJ