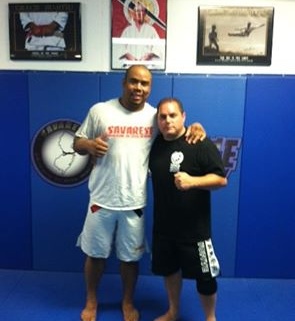 Jamal Patterson guest instructor at Savarese Jiu Jitsu
Jamal Patterson was the guest instructor at Savarese Jiu Jitsu last night, stopping by his good friend Professor Chris Savarese's Academy. Savarese and Patterson were training partners at the Renzo Gracie Academy in NYC for years and Savarese trained with Patterson for many of his grappling matches and was his coach at ADCC in 2005. Savarese said "Thank you to my good friend Jamal Patterson for being the guest instructor at our no-gi class teaching some awesome takedowns and his trademark guillotine." Anyone who needs tickets to his fight in AC on Sept 14th in Ring Of Combat, please contact me, I have 10 $40 seats left and 2 $75 seats left.
Ring Of Combat
Ring Of Combat is a Mixed Martial Arts show that features up and coming fighters primarily from the East Coast in their bouts. the show is run By Lou Neglia. Ring of Combat is the best fighting organization in the world at getting fighters ready for the UFC and one of the premiere organizations not only across the country but especially here in NJ. It's been great for east coast fighters to showcase their talents. ROC is a great platform for guys to make a name for themselves and get into the UFC. Such fighters as Edson Barbosa, Dave Branch, Frankie Edgar, Uriah Hall, Jay Hieron
Josh Koscheck, Dan and Jim Miller, Phillipe Nover, Kurt Pellegrino, Matt and Nick Serra, Krystof Soszynski and Chris Weidman have all fought in ROC.
Savarese BJJ Academy
The Savarese BJJ Academy is located at 40 Park Ave in Lyndhurst and is one of the best BJJ schools in NJ. There are classes for men, women only, teens and kids with a flexible schedule to fit anyone's needs. If you would like to try a free class, call 201 933-5134 or email professorsav@savtransfer.wpengine.com to set up a free trial class.
https://www.njbjj.com/wp-content/uploads/2012/08/sav-jamal.jpg
395
295
savarese
https://njbjj.com/wp-content/uploads/2016/02/Sav-Login-Logo-300x113.png
savarese
2012-08-18 09:28:36
2016-04-18 16:06:32
Jamal Patterson guest instructor at Savarese Jiu Jitsu