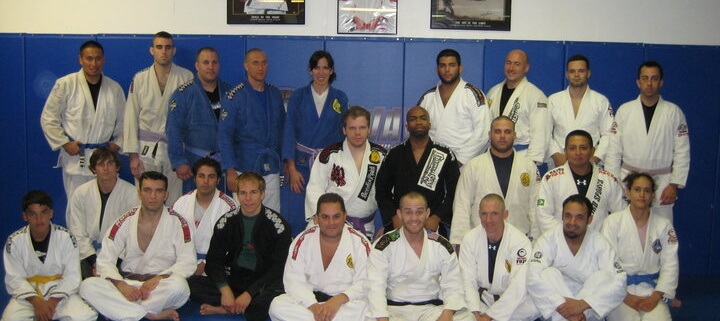 Jeff Glover NJ Jiu-Jitsu seminar at Savarese BJJ
2x Pan American BJJ Champion Jeff Glover taught a jiu-jitsu seminar at Professor Chris Savarese's NJ BJJ school last night. Savarese has coached and been Glover's corner man for many of his matches on the East Coast over the years. Glover's main instructor is Ricardo 'Franjinha" Miller, owner of Paragon BJJ in Santa Barbara, CA. Savarese said "I would like to thank Jeff Glover for sharing his knowledge w/ my students last night. It was truly awesome seminar. His techniques and thoughts on strategy were awesome. I would highly recommend his seminars to anyone."
About Jeff Glover
Jeff Glover is one of the top grapplers from the United States and a BJJ black belt under Ricardo "Franjinha" Miller. Glover, with his creative deep half and other guard styles, has one of the popular styles in Jiu Jitsu and is a huge fan favorite wherever he goes. Jeff also gained fame through his series of episodes named "Glover's Travels" where he travelled the United States interviewing and training with some of the best coaches in the country. These DVDs were very successful in the BJJ community because of both it's informative content and it's humor.
Glover started competing as a teenager and achieved success quickly. Even though he competed mainly at featherweight and Lightweight, he always tested himself against larger competition in the absolute (open weight) division. Something that not many featherweights dare try. This display of confidence reaped it's rewards as Glover won a bunch of absolute medals and titles over the years, unheard of at his weight. One of those titles won against Mike Fowler as a purplebelt at the prestigious Grapplers Quest, an event Glover is a 27-time champion, holding the the best record in the event's history, having lost only 4 times over 8 years of active competition.
Glover received his black belt at just 23 yrs old from "Franjinha". This was after winning his second Pan American gold medal in the brown belt division.
https://www.njbjj.com/wp-content/uploads/2010/07/Glover-seminar-7-14-2010.jpg
540
720
savarese
https://njbjj.com/wp-content/uploads/2016/02/Sav-Login-Logo-300x113.png
savarese
2010-07-23 17:09:47
2016-12-14 12:21:34
Jeff Glover NJ Jiu-Jitsu seminar at Savarese BJJ