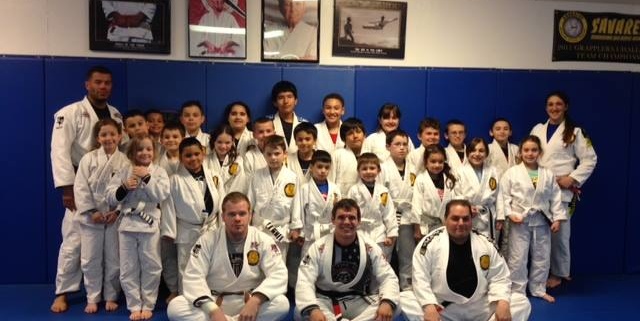 Kids Martial Arts School In Lyndhurst Hosts Justin Rader
This past Friday Savarese Brazilian Jiu-Jitsu Academy, a Kids Martial Arts School In Lyndhurst Hosts Justin Rader, for a Kids Only Seminar. Justin Rader, a 1st degree Black Belt in BJJ, a NoGi World Champion and Head Kids Instructor at Lovato Brazilian Jiu-Jitsu in Oklahoma, taught the some of the kids in the children's bjj class some of his competition proven techniques. Included in them were; takedowns, guard passing, and submissions.  After the seminar Professor Rader even took some time to train with some of the high ranking children in the program. The kids, parents and even coaches were extremely impressed by his wealth of knowledge and teaching methods. Thank you for sharing your knowledge with the kids and we can't wait to have you out again.
About Savarese BJJ Kids Program:
Kids bjj is beneficial to children in many ways. Children who participate in Brazilian Jiu-Jitsu classes quickly increase their physical fitness level. Brazilian Jiu-Jitsu involves both large and small muscle groups in the body. Improvement of physical well being is not the only goal. New Jersey children's Brazilian Jiu-Jitsu also aims to develop life-improvement skills as well as building the child's character in a positive way.
Respecting authority is quite important in the teaching of Brazilian Jiu-Jitsu. For many children learning to respect authority can be a difficult lesson to learn. At Savarese Brazilian Jiu-Jitsu Academy learning to respect authority is among our top priorities.
Our program can and WILL help your child increase their confidence, self-esteem, discipline, while teaching them life skills that will last them a lifetime.
If you would like your child to benefit from the art of Brazilian Jiu-Jitsu, call us today at 201 933-5134 or email us at professorsav@savtransfer.wpengine.com.
We look forward to hearing from you.
https://www.njbjj.com/wp-content/uploads/2014/05/10322573_619127401504701_8398228856491180066_n.jpg
480
640
savarese
https://njbjj.com/wp-content/uploads/2016/02/Sav-Login-Logo-300x113.png
savarese
2014-05-02 22:44:57
2016-04-08 10:48:50
Kids Martial Arts School In Lyndhurst Hosts Justin Rader