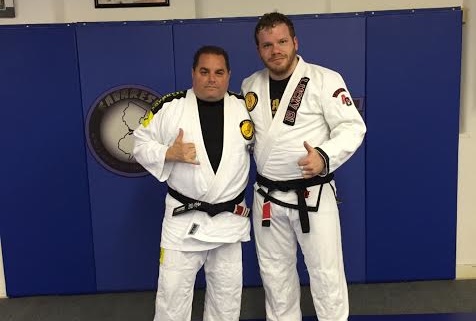 Sean Bermudez, the head of Savarese Brazilian Jiu Jitsu Kids Martial Arts, earned a prestigious promotion last night. His instructor, Professor Chris Savarese, promoted Bermudez with "professor stripes" on his black belt, a rank rarely given out in most Brazilian Jiu-Jitsu (BJJ) schools. Students will now have to address Bermudez by his title while in class.
Professor Savarese gave a moving speech in which he detailed Sean's upbringing and his rise through jiu-jitsu through tough circumstances and the improvement in him not just in the "training room" but off the mats as well. He also spoke of how much of the growth of the Academy is because of Sean's hard work. Everyone at Savarese BJJ is thrilled for Sean and thankful for what he provides to the Academy. The kids he teaches every day are so excited. It was a great night at the Academy.
Professor Stripes in BJJ
In this day and age of BJJ, everyone seems to be calling themselves professor after they get their black belt. But "professor" is a special and honorable rank that not everyone is supposed to receive. Professor Savarese was given his "professor stripes" by Royler Gracie and David Adiv in 2010.
While professor stripes can be given after you are a blackbelt for 1 year; it can often take a lot longer. Professor stripes are usually reserved for those who have devoted their lives to helping spread the art of Jiu-Jitsu. Usually school owners, teachers who work full time at an Academy or someone who has made many sacrifices to spread the art are promoted to Professor. Not every blackbelt will earn professor stripes. Only your instructor should tell people to address you as such. It is a very prestigious and honorable rank.
Anyone who is interested in trying a class at Savarese BJJ Academy in Lyndhurst, please contact us at 201 933-5134. We have a flexible schedule for everyone with classes morning, noon and night and on the weekends. We have classes for men, women (including women's only classes), teens and kids (including night classes for those with tough after school schedules)
https://www.njbjj.com/wp-content/uploads/2016/04/professor-sean.jpg
635
476
savarese
https://njbjj.com/wp-content/uploads/2016/02/Sav-Login-Logo-300x113.png
savarese
2016-04-26 12:18:30
2016-12-08 17:04:07
Lyndhurst BJJ Instructor Earns Promotion