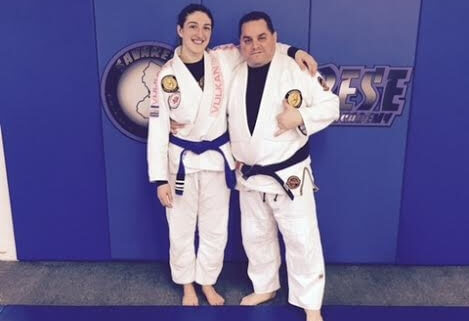 Lyndhurst Brazilian Jiu-Jitsu student among top teenagers
Lyndhurst Brazilian Jiu-Jitsu student Ariana Zeppetelli is among top ranked teens in NJ. On saturday, she earned the 3rd stripe on her bluebelt from Professor Chris Savarese at the Lyndhurst martial arts academy Savarese Brazilian Jiu-Jitsu. She is only 16 yrs old! Zeppetelli started training 4 yrs ago at the age of 12, quickly becoming of of the top students in the kids program. After a brief trial in the teens classes, she was quickly bumped up to train full time with the adults. She is now one of the top students in the Women's program. She has even tried her hand in the submission wrestling program, which is also known as no-gi BJJ. She has had success there too. She has won or medaled in tournaments such as the New Jersey Brazilian Jiu-Jitsu Federation (NJBJJF), Grapplers Quest and North American Grappling Association (NAGA) and The Good Fight. He trains alongside some of the top grapplers in the world to come out of this Academy. If you like Ari's story and want to be like her, call 201 933-5134 for a free trail class. Even if you are just a teenager looking to compete on a high level or just someone who wants to learn self-defense and stay in shape, call us. We are the top Lyndhurst Martial Arts facility in the area.
About BJJ
Brazilian Jiu-Jitsu (BJJ) is a devastating fighting and grappling art developed by the Gracie Family of Brazil. BJJ contains many self-defense techniques, throws, takedowns and submission holds that can finish a fight. At our Lyndhurst BJJ facility, we believe 90% of altercations and attacks end up on the ground. We teach you to fight from there and off your back as well as on top. BJJ, also known as Gracie Jiu-Jitsu, was developed to allow the smaller person to defeat the larger person through the application of leverage and submission holds. Holds such as chokeholds and  joint locks such as armbars, kneebars and leglocks. It is quickly becoming one of the most popular Martial Arts in the world today because of it's versatility as a self defense and its sport aspects.
https://www.njbjj.com/wp-content/uploads/2016/02/ari.jpg
625
469
savarese
https://njbjj.com/wp-content/uploads/2016/02/Sav-Login-Logo-300x113.png
savarese
2016-02-16 02:46:21
2016-03-11 17:43:45
Lyndhurst Brazilian Jiu-Jitsu student among top teenagers