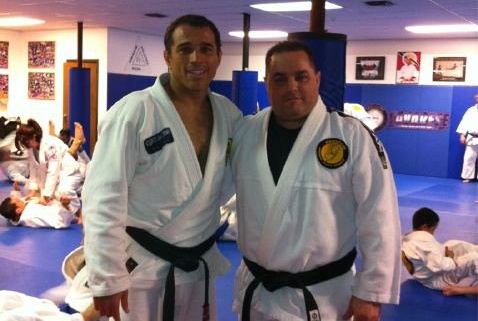 Lyndhurst Jiu Jitsu instructor earns professor stripes
What a day thursday was for Chris Savarese. The Lyndhurst Jiu Jitsu instructor earned his professor stripes from the legendary Royler Gracie. A 4x World Jiu-Jitsu Champion and member of the Gracie Family, Royler taught class at Savarese's Lyndhurst Jiu-Jitsu school Savarese BJJ Academy on Thursday. The class was attended by over 50 people as the son of Grandmaster Helio Gracie shared his knowledge with everyone. Savarese is one of Master Royler Gracie's blackbelts and is one of the 1st Americans to earn one from him.
Other Savarese accomplishments
Savarese is a well known BJJ practitioner on the BJJ tournament scene. In addition to be an excellent competitor, Savarese has also been a MMA matchmaker for the Sportfighting organization. Futhermore, he has been the matchmaker for the Grapplers quest pro divisions during their heyday. Finally, he is also considered one of the top referees in the sport, reffing over 500 top matches over the last 10 years.
Professor Stripes
Since the "professor stripes"are a very prestigious award in Brazilian Jiu-Jitsu, not everyone receives them.  It signifies that you have devoted your life to BJJ and the Gracies recognize your commitment to spread their family's art. Gracie announced that all students are now to call him Professor. Consequently, all of Savarese's student burst out in applause when the honor was given. Hence, Savarese said it was a life long dream fulfilled and it was one of the proudest moments of his life.
Savarese BJJ Academy
If you would like to try a free trial class at the Savarese Academy, call 201 933-5134 or email professorsav@savtransfer.wpengine.com
https://www.njbjj.com/wp-content/uploads/2011/04/royler-seminar-2011-2-1.jpg
640
478
savarese
https://njbjj.com/wp-content/uploads/2016/02/Sav-Login-Logo-300x113.png
savarese
2011-04-07 09:51:48
2016-12-14 12:40:02
Lyndhurst Jiu Jitsu instructor earns professor stripes