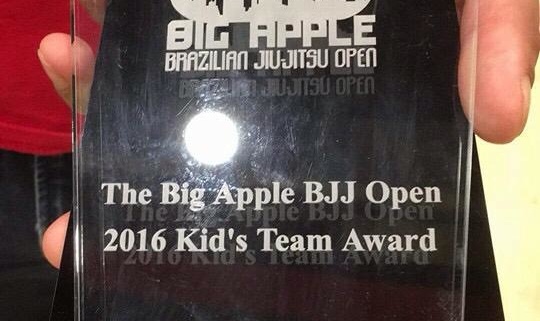 Savarese Brazilian Jiu-Jitsu Academy, a Lyndhurst Jiu-Jitsu school, excelled at the Big Apple Open Tournament in NYC this weekend.
With only 22 competitors in one of the East Coast's biggest tournaments, the competition team racked up 17 medals in total.
Professor Chris Savarese, the Academy owner, had this to say on Facebook:
"What a great day we had at the Big Apple Open. It was a really great tournament.
Man my juices were flowing. I haven't been that pumped up at a tournament in a long time.
The competition in all the divisions was really high. I saw some amazing BJJ competitors. The tournament was run smoothly. The refs were very good and I didn't see a lot of mistakes.
Our kids and adults fought awesome today. I am really proud of everyone who stepped up to test themselves. This is one of the best gi tournaments on the East Coast every year. I'm proud of you win or lose because you aren't afraid to fail. That goes a long way in my book.
Congrats to all those who medaled. Some others need to be more aggressive, you can't win a tournament match by constantly defending but at least we know what to work on.
Ariana Lynn Zeppetelli was a star today, completely dominating a women's bluebelt division at just 16 yrs old. You were flawless and used your corner perfectly. I wish everyone listened like you.
I'm proud of every single one of you. For those who had off days today, I would suggest to get right back on the horse with the lessons learned today and do the NJBJJF next week.
Our kids fought like lions today. We took 3rd place in the team standings against some of the biggest schools in NYC, finishing ahead of them even some that had multiple schools there.
I am happy to call you guys family.
Thanks to Professor Sean Bermudez for giving up a Saturday with his family and to all those who came to support your teammates today.
Oss"
If you are interested in taking a free class at the Academy, call 201 933-5134 to schedule one.
https://www.njbjj.com/wp-content/uploads/2016/05/3rd-place-trophy-1.jpg
960
540
savarese
https://njbjj.com/wp-content/uploads/2016/02/Sav-Login-Logo-300x113.png
savarese
2016-05-17 14:00:33
2016-06-10 14:39:51
Lyndhurst Jiu Jitsu school excels at NYC Tournament