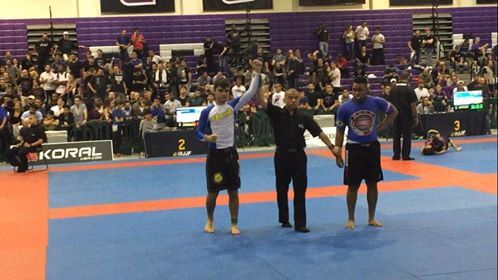 Blue Belt Wins No Gi Pan Championship
Savarese Brazilian Jiu-Jitsu student Leo Alves won the prestigious no-gi Pan Am championship this weekend. Alves, a bluebelt at the North Jersey jiu jitsu academy, took gold in his division at CCNY this weekend. The 17 year old is a top local competitor and has stepped up on the world scene this year. Due to lack on sponsorship $, the first time he was able to compete was in May at the World BJJ Championship tournament in CA. Since then, Alves won the Absolute (no weight limit) championship at the NJBJJF (New Jersey Brazilian Jiu Jitsu Federation) in August as well as 2 other smaller tournaments. While at the Pan Ams, he tried his hand in the Absolute division. As a result, he took home the bronze medal for his efforts. It made for quite an impressive display for the youngster.
Professor Chris Savarese, his instructor and an award winning coach, is very high on Alves. "If Leo commits himself to BJJ, he has the tools and skills to become a World Champion, we just have to find him some sponsors."
Next up for Alves is the NJBJJF tournament in November.
No-Gi Pan Am Championship
Every year, the No-Gi Pan Am Championship is the 2nd biggest no-gi IBJJF event in the USA. Second to only the No-Gi World Championship. Jiu-Jitsu Champions are usually judged by how many World and Pan Am Championships they have won. Both tournaments are held in high regard. More info for all IBJJF events at their site.
https://www.njbjj.com/wp-content/uploads/2016/10/Leo-No-Gi-Pan-Champ.jpg
280
498
savarese
https://njbjj.com/wp-content/uploads/2016/02/Sav-Login-Logo-300x113.png
savarese
2016-10-04 09:50:42
2016-12-07 14:38:48
Blue Belt Wins No Gi Pan Championship