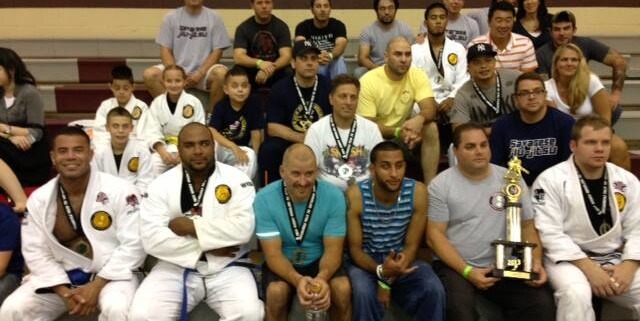 Lyndhurst Jiu-Jitsu Team has amazing day at NJBJJF
The Savarese Brazilian Jiu-Jitsu (BJJ) Academy Competition team, a Lyndhurst Jiu-Jitsu team, had an amazing day at the New jersey Brazilian Jiu-Jitsu Federation (NJBJJF) tournament yesterday. The team comprised of 26 adults, teens and kids traveled down to the South Jersey tournament and every single one of them won a medal in their division. The showing was not only the best the Savarese team ever had, it was the best showing in the tournament's history. That has never happened before in the history of the tournament with a team of over 10 competitors. Professor Savarese, the Academy's owner and head instructor, is very well respected in the BJJ community. A good competitor himself in his younger years, he says he gets more out of helping others reach their goals. He stated on Facebook "Today was one of the most awesome days I have had as a BJJ instructor. Congrats to the Savarese BJJ Competition team! We brought a team of 26 kids/teens/adults to the NJBJJF tournament and every single student on our team won a medal!!! I couldn't have dreamed we would do that well. I am so super proud of my team and a big thank you to the instructors who help, the teammates who come down to support their teammates and all the parents who support us as well. We are family! Love you all!! So proud of everyone!" He only stated "This has been a huge year for our Academy. We are breaking ground on a new 5000 sq ft facility to open early next year. Our enrollment has tripled this year. Our competition team, despite less than 10% of our school focusing on competition is doing phenomenal! I am so excited for the Academy's future.
If you would like to join this winning team, call 201 933-5134 for a free trail lesson.
https://www.njbjj.com/wp-content/uploads/2013/03/team-2013-champs.jpg
480
640
savarese
https://njbjj.com/wp-content/uploads/2016/02/Sav-Login-Logo-300x113.png
savarese
2013-03-10 21:25:52
2016-04-08 15:07:47
Lyndhurst Jiu-Jitsu Team has amazing day at NJBJJF