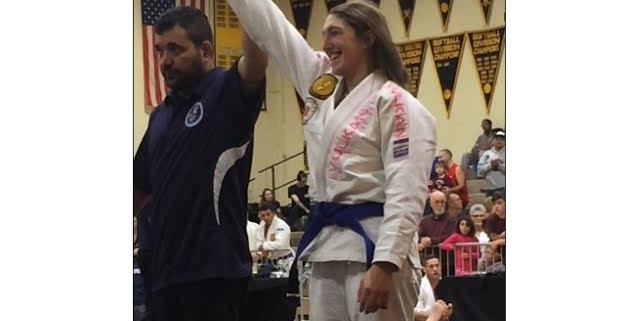 Lyndhurst Jiu-Jitsu Teenage student becomes certified instructor
Ariana Zeppetelli, Lyndhurst Jiu-Jitsu Teenage student becomes certified instructor at only 16! The St. Mary High School student was one of the youngest out of the 54 people to take the course at Savarese Brazilian Jiu-Jitsu (BJJ) in Lyndhurst. Savarese BJJ is one of the best BJJ school in Bergen County, NJ and is considered by many in the BJJ community to be one of the best BJJ's schools in NJ. Zeppetelli became the 1st person in the entire course to graduate. Professor Chris Savarese, who taught the course said of Zeppetelli "Nothing Ariana does surprises me. She is wise beyond her years, mature beyond her years, comes from an excellent, hard working family and she embodies those values. The fact that at 16 yrs old, she graduated before a room full of adults including some blackbelts, shows how dedicated she is to being great at Jiu-Jitsu and teaching it to others. I couldn't possibly be more proud of her and to be her instructor." She will begin by assisting during kids and Women's only classes.
About Brazilian Jiu-Jitsu
Brazilian Jiu-Jitsu is a devastating fighting and grappling art developed by the Gracie Family of Brazil. While it contains many stand-up throws, takedowns and self-defense techniques that can finish a fight, it is most famous for its extremely effective ground fighting techniques. This art emphasizes ground fighting techniques and submission holds involving joint-locks and chokeholds also found in numerous other arts with or without ground fighting emphasis. The premise of BJJ is that most of the advantage of a larger, stronger opponent comes from superior reach and more powerful strikes, both of which are somewhat negated when grappling on the ground. BJJ is practiced wearing a gi, and it employs a belt system of white, blue, purple, brown, and black.
Savarese BJJ Academy
Founded in 2006 by owner and head instructor Professor Chris Savarese, the Savarese Brazilian Jiu Jitsu Academy was opened with one purpose in mind: to better peoples lives on and off the mat through the teaching of Brazilian Jiu-Jitsu.
The Savarese BJJ Academy provides the support, knowledge and experience that allow our members to experience real Gracie Jiu-Jitsu in a safe and friendly environment, to the best of their abilities, at their own pace and commitment level.
Our doors are open to men, women and children of all ages, shapes and sizes. If you would like to join our team please contact us:
Savarese Brazilian Jiu-Jitsu Academy
40 Park Ave (back building)
Lyndhurst NJ 07071
201 933-5134 or professorsav@savtransfer.wpengine.com
https://www.njbjj.com/wp-content/uploads/2016/03/ari-78.jpg
625
625
savarese
https://njbjj.com/wp-content/uploads/2016/02/Sav-Login-Logo-300x113.png
savarese
2016-03-15 14:51:20
2016-03-15 15:46:28
Lyndhurst Jiu-Jitsu Teenage student becomes certified instructor