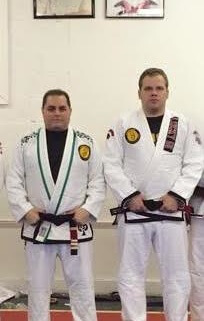 Lyndhurst Kids Jiu Jitsu Instructor Gracie Mag article
Check out the Gracie Mag online article about Coach Sean Bermudez at the following link.
http://www.graciemag.com/2015/02/gma-savarese-bjj-academy-kids-coach-sean-bermudez-promoted-to-black-belt/
Bermudez was promoted to black by his instructor, Professor Chris Savarese, a 2nd degree blackbelt in Brazilian Jiu-Jitsu. Savarese is one of the 1st American Jiu-Jitsu practitioners to earn a blackbelt from Royler Gracie, son of the late Grandmaster Helio Gracie. Bermudez is the head instructor of the Savarese Academy's kids program, one of the top programs in the state.
Savarese BJJ Academy
The Savarese Brazilian Jiu Jitsu Academy is the first Brazilian Jiu Jitsu school in Lyndhurst NJ servicing all the surrounding towns such as Rutherford, Nutley, North Arlington, Kearny, East Rutherford, Secaucus, Belleville, Bloomfield, Carlstadt, Lodi, Hasbrouck Heights,Passaic, Fair Lawn and Newark. We have students from Bergen, Passaic and Essex County.
The Savarese BJJ Academy's main focus is Brazilian Jiu Jitsu and NO GI Jiu Jitsu. We cater to the athlete that is looking to compete at the highest level and the BJJ hobbyist that comes in 2 to 3 times a week to take classes. BJJ provides the practitioner with the tools to defend him or herself against opponents of all sizes and statures, emphasizing proper technique as a force to balance out strength disadvantages. Hence, students will learn the most up to date techniques available by experienced instructors in a safe and clean environment. Savarese BJJ also teaches Gracie Jiu-Jitsu self-defense only classes for those looking for street self defense.
Finally, Savarese BJJ also has an exceptional kids program for kids ages 5-12 years old. Our program will bully proof your child and give them the proper tools to give the confidence, discipline, and respect. For those children looking to compete, we have one of the top kids competition teams in NJ. Come in and see why we are the best in the area. Call 201 933-5134 for more info.
https://www.njbjj.com/wp-content/uploads/2015/02/sav-sean-1.jpg
456
204
savarese
https://njbjj.com/wp-content/uploads/2016/02/Sav-Login-Logo-300x113.png
savarese
2015-02-20 19:36:36
2016-12-14 12:53:39
Lyndhurst Kids Jiu Jitsu Instructor Gracie Mag article