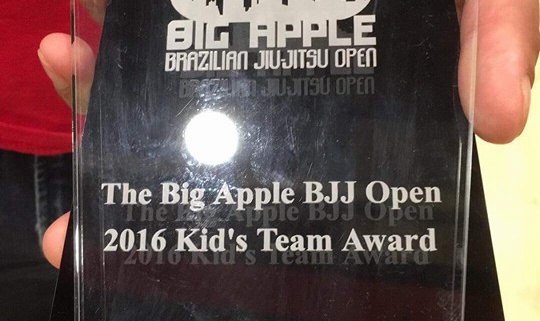 Lyndhurst Kids Martial Arts School Places Top 3
Lyndhurst Kids Martial Arts School Places Top 3 this past Saturday at the Big Apple BJJ Open in New York City.
The event was held at Martin Luther King Jr. High School and had well over 35 teams involved. Savarese BJJ placed Top 3 amongst the schools that were present, even though they only had 14 kids participate. In doing so they beat out some of the top schools in NY, NJ, CT, DC, DE, and PA.
Some highlights of the tournament were Reagan, Lucas, Lorenzo, and Diego all winning GOLD! Kayla Zeppetelli winning Silver fighting up a division that was a higher belt, age and higher weight, at 13 she beat a 15 year old boy to move into the finals where she just narrowly came up short for the GOLD! This was the biggest challenge so far the kids competition team. Below you will find the full results of all of the Savarese BJJ Kids that competed.
Diego Pena – Gold
Reagan Roxas – Gold
Lorenzo Tiankee – Gold
Lucas Demarco – Gold
Harun Incekara – Silver
Mateo Santiago – Silver
Kayla Zeppetelli – Silver
Aleksey Oneill – Silver
Laudan Henry – Bronze
Leopoldo Tiankee – Bronze
Antonio Santiago – Bronze
Damian Moreira Silver and Bronze
Paul Helwig – Bronze
Mike Carreira – Bronze
When asked about the kids performance Savarese BJJ Head Kids Instructor Professor Sean Bermudez had this to say:
"Today the kids showed that they are truly champions!
Congrats to all of them, I could not be prouder.
Lauden got caught in a triangle 30 seconds in and faught through it the whole match and almost passed the guard at the very end!
Leo Tiankee faught one of the best kids in the country at his weight and hung with him.
Reagan went Beast Mode!

Paulie showed a tremendous amount of heart and dedication.

Kayla  beat a kid who was easily 8 inches taller than her and a higher rank!

Lucas turned it up a notch today.

Aleksey was all business.

Mikey fought through some really tough positions that most people would give up on.

Happy Feet did what he does best.

Antonio continued to show his heart and determination fighting up in age and weight.

Harun did the same and took 2nd!

Damian stepped up in his 1st yellow belt tournament and medalled in 2 divisions!

Lorenzo had his best day yet!

And lastly our half pint terror Diego wins another gold medal!"
Interested in enrolling your child in an award winning Lyndhurst Kids Martial Arts Program?
Contact us today at 201 933-5134
https://www.njbjj.com/wp-content/uploads/2016/05/13177804_10207715625462892_5583856777092037842_n.jpg
960
540
savarese
https://njbjj.com/wp-content/uploads/2016/02/Sav-Login-Logo-300x113.png
savarese
2016-05-16 11:32:45
2016-09-20 09:32:11
Lyndhurst Kids Martial Arts School Places Top 3