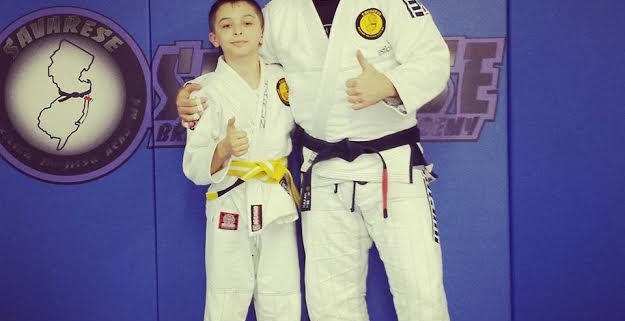 Lyndhurst Martial Artist Harun Incekara receives promotion
Lyndhurst Martial Artist Harun Incekara receives promotion to white and yellow belt! Harun was promoted today by his Coach Sean Bermudez and instructor Professor Chris Savarese at the Savarese Brazilian Jiu-Jitsu (BJJ) Academy in Lyndhurst. This BJJ promotion is a big deal for someone his age. This promotion is a long time coming. He has been training with us for a long time and is finally old enough to wear this rank. Harun has been one of the better kids in our program for the last couple of years. He is always one of the kids who volunteers to help the younger and newer kids and has a great attitude. In BJJ Competition, he is undefeated in 6 tournaments and only has 2 points ever scored on him. We are so excited to see what the future holds for him. Great job buddy!
Savarese BJJ Academy Kids Program
The main goal at Savarese Brazilian Jiu-Jitsu Academy is to boost the self-esteem of all of our students. Every day in the USA, over 100,000 kids miss school because of some form of bullying. There are many experts who believe that fear of bullying may be the leading cause of low self-confidence in the children in our country. Worse, statistics suggest that less than 20% of kids actually report acts of bullying.  At Savarese BJJ, we focus on the physical, emotional and mental well being of our students. We like call them"Life Skills." We provide our kids with the most powerful defensive skills in BJJ so they will be ready to stand up against bullies. In addition, we help our students with the development of characteristics and skills they will need in order to live a happy and balanced life.  Our students develop confidence, discipline, courage, responsibility, and leadership among other important values. We encourage non-violent resolutions to conflict. We aim to develop life-improvement skills as well as building the child's character in a positive way. Our belief is uncoachable kids become unemployable adults. We teach these skills in the most fun atmosphere possible
Our Lyndhurst kids BJJ classes are beneficial in many ways. Children who participate in Brazilian Jiu-Jitsu classes quickly increase their physical fitness level. Brazilian Jiu-Jitsu involves both large and small muscle groups in the body. Improvement of physical well being is not the only goal.
Our program can and WILL help your child increase their confidence, self-esteem, discipline, while teaching them life skills that will last them a lifetime.
In our time-proven program, your child will be able to progress at their very own pace. We understand that everyone learns differently. No matter if your child can only train once a week or everyday we have the program that will fit your needs.
New Jersey kids Brazilian Jiu-Jitsu develops many traits in your child. These traits include:
Increased self esteem
Greater Self Discipline
Increased ability to Focus and Concentrate
Elevated Self Confidence
Overall Improvement in Attitude
Improved Physical Fitness Level
Development of Leadership Skills
Greater Respect for themselves and others
Increased Patience
Greater work Ethic
Better Understanding of How to Channel Aggression
Brazilian Jiu-Jitsu is also a fun, competition based sport if you child chooses to compete. We prepare students to compete as well in separate competition based classes and we have one of the top competition teams in NJ, winning 6 team championships in various tournaments over the last 3 years.
https://www.njbjj.com/wp-content/uploads/2015/08/harun.jpg
625
625
savarese
https://njbjj.com/wp-content/uploads/2016/02/Sav-Login-Logo-300x113.png
savarese
2015-08-15 14:29:56
2016-03-16 13:20:02
Lyndhurst Martial Artist Harun Incekara receives promotion