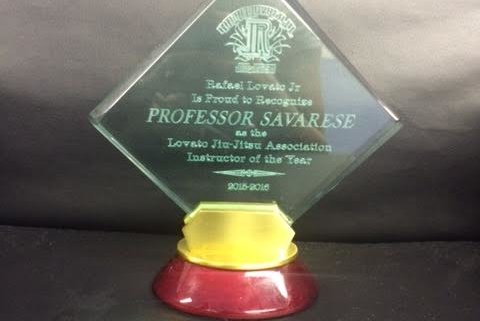 Lyndhurst martial artist wins "Instructor of the year"
Lyndhurst martial artist Professor Chris Savarese was presented with the Lovato Jiu-Jitsu Association Instructor Of The Year Award. Lovato Association head Rafael Lovato Jr presented Savarese with the prestigious award thursday night at Savarese's Academy. Because this covers all of the Lovato schools across the United States and Canada, over 30 in all, the award is quite an honor.
First, Lovato, the 4x World BJJ Champion, recognized the talent in the Savarese Academy's room and the hard work of the instructors and Professor Savarese. Also, Lovato spoke movingly of the success the school had through a personal health battle Savarese had encountered. Most noteworthy is that Savarese did not forego his teaching duties. Finally, he presented Savarese with the Lovato Jiu-Jitsu Association Instructor Of The Year Award.
Due to the fact it was presented at his Academy, Savarese was very touched and honored. In addition to the Lovato Jiu-Jitsu association having some amazing, world class instructors, Savarese has a great deal of respect for them. Hence, everyone at Savarese BJJ is very honored to represent the association.
Rafael Lovato Jr Lyndhurst NJ seminar
Since Oklahoma City's Lovato came to train at and teach a Brazilian Jiu-Jitsu seminar at the Savarese Academy, over 60 students were in attendance.
Lovato taught some useful concepts for any BJJ practitioner. Framing defenses from the guard that can be useful in other positions as well started off the seminar. Next up came the finer details of the passing, mount attacks and submissions. These details have been working well for him in competition for the past year. Teaching concepts and not just moves made it a true teaching seminar. Students at the Academy called it one of their favorites that Lovato has done here.
Finally, thank you to Professor Lovato and everyone for a great night of learning Jiu-Jitsu.
In conclusion, do you live in the Bergen, Passaic or Essex county areas and want to learn jiu-jitsu? Call the Savarese team at 201 933-5134 for a free trial lesson.
https://www.njbjj.com/wp-content/uploads/2016/09/sav-award-2016.jpg
640
480
savarese
https://njbjj.com/wp-content/uploads/2016/02/Sav-Login-Logo-300x113.png
savarese
2016-09-19 14:21:32
2016-12-07 14:18:52
Lyndhurst martial artist wins Instructor Of The Year