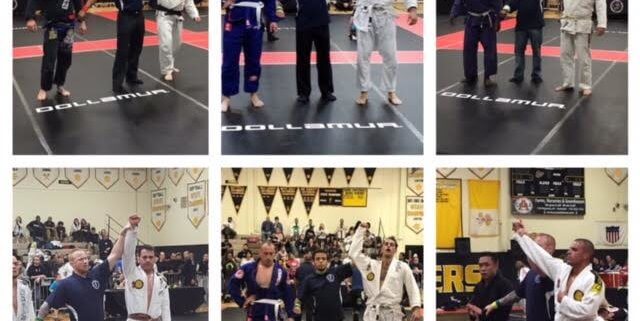 Lyndhurst Martial Arts-No One Fights Alone
"No one fights alone". That was the motto Lyndhurst martial school Savarese BJJ adopted for their teammate Maria Lleonart. Lleonart, a brownbelt at the Academy, has been battling cancer. Team Savarese wanted to show her show their support, show her she has many who care about her and that she is missed and we are waiting for her return. Goals were made by the school's competition teams, kids and adults, to win the team titles for her at yesterday's New Jersey Brazilian Jiu-Jitsu Federation Tournament.
Savarese BJJ wins Double Gold!
Savarese BJJ won double gold at the tournament, as both their kids and adult competition teams taking 1st place in the Team standings. Their point total nearly doubled every other school attending. 64 competitors from the team competed in the tournament, a tremendous showing by the Savarese Academy.
Message from Professor Savarese
Thank you to everyone who stepped up to compete yesterday. EVERY SINGLE ONE. Maria has been a friend of mine for over 15 years and a student for 10. Someone who I know longer than any one of my students. I have to put on a strong facade for the team but it doesn't mean this isn't scary when I am alone. Danny, her husband is one of my first students as well. Yesterday wasn't about individual accomplishment or just making a post on Facebook. Everyone stepped up and took action. Many of you weren't ready but did it anyway. Some were hurt and others weren't able to put in the proper training to win but did it anyway. That is what team and family are about, no egos, fighting for something bigger than us and for someone else. 
Thanks NJBJJF
Saying how proud I am would be an understatement. I have never been more proud of my school and my students. It is MY honor to be among you. Thanks to the NJBJJF for helping us make a donation to the cancer fund of Maria's choice. Also, to my blackbelts Professor Sean Bermudez, Michael Hanly and Mohammad Mohebbi, who put in over 8 hours of coaching yesterday. Maria, look at this picture, it was all for you. 
https://www.njbjj.com/wp-content/uploads/2016/11/guys-maria.jpg
640
640
savarese
https://njbjj.com/wp-content/uploads/2016/02/Sav-Login-Logo-300x113.png
savarese
2016-11-07 14:41:05
2016-11-07 17:45:27
Lyndhurst Martial Arts-No One Fights Alone