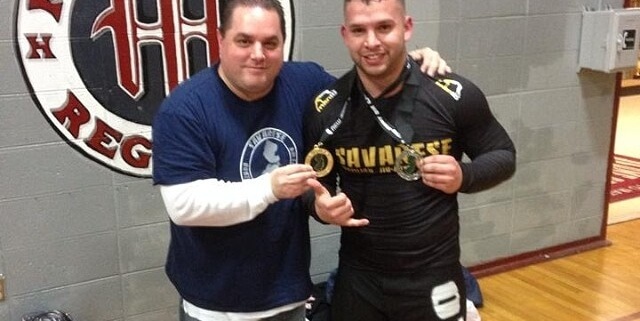 Lyndhurst Martial Arts school has great day
The Lyndhurst Martial Arts school Savarese Brazilian Jiu-Jitsu (BJJ) had a great day at the New Jersey Brazilian Jiu-Jitsu Federartion tournament this weekend with every member of the team winning 1st or 2nd place at the prestigeous tournament. The school's owner and instructor, Professor Chris Savarese was more than pleased by the turnout. Savarese stated on his Facebook page "Congrats to all my Savarese Brazilian Jiu-Jitsu students who competed and those who came and supported their teammates today at the NJBJJF tournament. You guys competed like lions! We went w only 8 guys and Every single guy took a gold or silver, all but 1 competing in their 1st tournament!Congrats to Jose Almeida, Marco Ramirez, Reccarro Jones and Danny Flores who all took GOLD, and to Brian, Joe and Dan O'Connor and Alex from our affiliate Training 4 Life Martial Arts, who all took 2nd or 3rd. Coach Chris Laciura is ding a great job w/ them I am so proud of you guys! Can't wait to see what the future brings! OSS."
The NJBJJF Tournament
This Federation was established to bring the best competition in Brazilian Jiu Jitsu to New Jersey.  The mission of the NJBJJF is to bring together those academies, teams and individuals searching for a traditional Brazilian Jiu Jitsu championship and the spread of our art. The rules used in this event follow the traditional rules utilized by the IBJJF, with the greatest objective being to preserve the integrity of the competitors and to give our spectators a true show of the sport.
Savarese BJJ Academy
The Savarese BJJ Academy is located at 40 park Ave in Lyndhurst NJ across from the PNC Bank. It is one of the top BJJ school in the USA. It's instructor Professor Chris Savarese is one of the 1st Americans to receive a blackbelt from Royler Gracie. If you would like to join their program, call 201 933-5134 or email professorsav@savtransfer.wpengine.com for a free intro class. No experience is necessary and if fact is better because you don't have any bad habits yet. All ages welcome from 6yrs old on up.
https://www.njbjj.com/wp-content/uploads/2014/04/Jose-NJBJJF.jpg
640
640
savarese
https://njbjj.com/wp-content/uploads/2016/02/Sav-Login-Logo-300x113.png
savarese
2014-04-17 17:43:48
2016-04-08 10:45:43
Lyndhurst Martial Arts school has great day