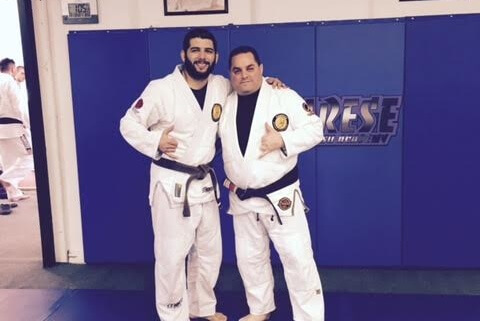 Lyndhurst Martial Arts student gets promoted
Lyndhurst Martial arts student Dan Lleonart was promoted by Professor Chris Savarese to the rank of brownbelt-1st stripe saturday at the Lyndhurst martial arts academy Savarese Brazilian Jiu-Jitsu (BJJ) on Park Ave. Lleonart is one of the top students in the program and is also an assistant instructor at the Academy. He is also a top student and instructor in the submission wrestling program which is also known as no-gi BJJ. Lleonart makes no excuses as he works full-time in a law firm, is a new dad, goes to school and still makes classes almost every day. he started BJJ under Professor Savarese in 2007 and has won tournament such as the Abu Dhabi Combat Club NJ (ADCC), Grapplers Quest and North American Grappling Association (NAGA). He trains alongside some of the top grapplers in the world to come out of this Academy, including guys who have won or placed in the top tournaments in the World like the IBJJF World Brazilian Jiu-Jitsu Championship and the ADCC World Submission Wrestling Championship. If you are an athlete looking to compete on a high level or just someone who wants to learn self-defense and stay in shape, call the Savarese BJJ Academy at 201 933-5134 for a free trial class at the top Lyndhurst Martial Arts facility in the area.
About Brazilian Jiu-Jitsu
Brazilian Jiu-Jitsu is a devastating fighting and grappling art developed by the Gracie Family of Brazil. While it is most famous for its extremely effective ground fighting techniques, BJJ contains many stand-up throws, takedowns and self-defense techniques that can finish a fight. BJJ, also known as Gracie Jiu-Jitsu, was developed to allow the smaller person to defeat the larger person through the application of leverage and submission holds such as chokeholds and  joint locks such as armbars, kneebars and leglocks. BJJ is a versatile Martial Art. Its varied applications include a realistic self-defense system, a complete sport, a proven fighting style and a fun and healthy recreational activity. It is quickly becoming one of the most popular Martial Arts in the world today because of it's versatility.
https://www.njbjj.com/wp-content/uploads/2016/02/Dan-L.jpg
640
480
savarese
https://njbjj.com/wp-content/uploads/2016/02/Sav-Login-Logo-300x113.png
savarese
2016-02-15 15:57:17
2016-03-11 17:44:43
Lyndhurst Martial Arts student gets promoted