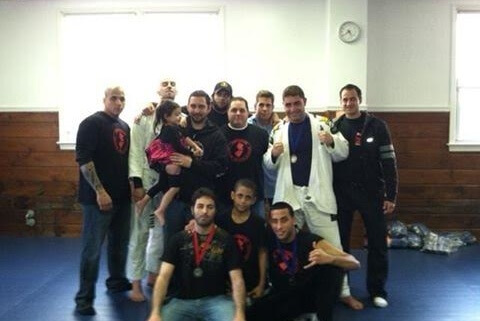 Lyndhurst BJJ Academy shines at Grapplers Challenge
The Savarese Brazilian Jiu Jitsu competition team, a Lyndhurst BJJ Academy, shined at the Grapplers Challenge this weekend. With only a small portion of the team competing, the team still finished in the top 3 in team scoring. Congrats to all the members of the team, everyone who competed won at least 1 match. 6 guys competed, 5 medaled! here ate the results below:
Brian "Toast" Procel-3rd place Purple Lwt in his 1st tournament as a purplebelt
Bryan Brown-2nd Palce bluebelt Lwt (Bryan has been a bluebelt for 3 weeks)
Danny "Newskin" Lleonart-2nd place Bluebelt Lt Hwt
Jesse Schneider-3rd place whitebelt Lwt
Mike "Babe" Gonzalez -1st Place whitebelt Lwt
Congrats to Joe "Google" Mannarino as well who won 2 matches and took 4th place. I'm proud of everyone, you guys all fought w/ courage, heart and dignity.
Here are the Team Standing for points:
The Challenge #2 – Gi Challenge Results – 5/21/2011
Team Standings (1st Place = 5 Points, 2nd Place = 3 Points, 3rd Place = 1 Point)
1st – Grapplers Guide – 27
2nd – Alliance NYC– 15
3rd – Savarese Jiu-Jitsu– 13
Serra Jiu-Jitsu– 12
Performance Jiu-Jitsu – 11
NJ Training Grounds – 10
Quintella – 9
Advanced – 8
Renzo North Valley – 8
Delaware JJ – 8
Cutting Edge – 4
Elite Tactical – 3
Top Control – 3
Renzo Denville – 3
LA Boxing Hoboken – 3
Gracie Barra Long Island – 1
3G – 1
Unknown – 1
Bullpen – 1
Honorable Mention:
Ft. Meade
Five Points
Best Way
HGBMMA
NJ United
Subforce
IMBCT
CMAC
Jucao
All Star
Madama
Savarese Jiu Jitsu Lyndhurst
Professor Chris Savarese, a 2nd degree BJJ blackbelt, started the Savarese Brazilian Jiu Jitsu Academy in 2006. He is one of Royler Gracie's 1st American blackbelts and a student of BJJ for over 15 years. The Savarese Academy is starting to become a household name in the BJJ circles as one of the fastest growing BJJ Academies in the USA. Their competition team has been doing very well on the tournament scene for the last 2 years. If you are interested in a free trail class, call 201 933-5134.
https://www.njbjj.com/wp-content/uploads/2011/05/Grapplers-Challenge-1.jpg
358
480
savarese
https://njbjj.com/wp-content/uploads/2016/02/Sav-Login-Logo-300x113.png
savarese
2011-05-21 19:33:57
2016-12-14 13:44:06
Lyndhurst BJJ Academy shines at Grapplers Challenge