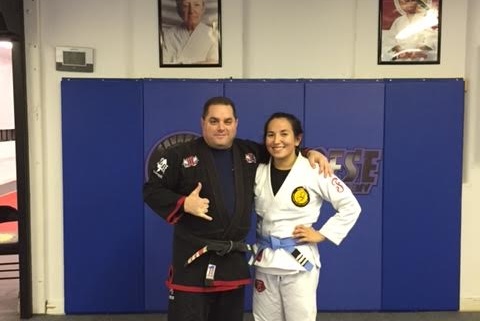 Medical student Caitlin McManus earns jiu-jitsu promotion
Medical student Caitlin McManus earns jiu-jitsu, becoming a Brazilian Jiu-Jitsu 3rd stripe bluebelt.The former Montclair State graduate starting training at the college in their jiu-jitsu program run by Savarese Brazilian Jiu-Jitsu student Brian Procel during her time there. After falling in love with the art, she decided to keep up with her training and joined the Savarese BJJ Academy, located in Lyndhurst NJ. Professor Chris Savarese, the school's owner and head instructor loves Caitlin's work ethic. "She is one of the hardest workers in the whole Academy! On many nights, she is the first to arrive and the last to leave. I'm so excited to see how good she will be in a couple of years." Keep up the great work Caitlin!
More about BJJ
Brazilian Jiu-Jitsu or BJJ, is a martial art focusing largely on grappling and ground fighting. It utilizes proper technique and leverage to obtain dominant control on the ground and as a result, provides greater position for striking or submission holds. BJJ has been proven to be an effective method for dealing with bigger and stronger opponents and has become increasingly popular due in part to its great success in MMA (Mixed Martial Arts) and the Ultimate Fighting Championship (UFC). It can be trained for self defense, sport grappling with or without the kimono and mixed martial arts competition. Translated as "the gentle art," Brazilian jiu-jitsu focuses on using strength and technique in the most efficient way possible to control and overcome opponents of greater size, strength and aggression. With its roots in the Japanese jiu-jitsu of the late 19th and early 20th centuries, the art found its way to Brazil in 1910, when Mitsuyo Maeda, a Japanese jiu-jitsu and judo expert, emigrated to the country. There he became friends with Gastao Gracie, an influential businessman who helped Maeda get established. In return, Maeda taught jiu-jitsu to Gracie's sons, who became very proficient in the art, eventually passing on Maeda's teaching in their own schools. The many additions, modifications, and refinements to the art made by the Gracie family were tested against other styles with great success, propelling Gracie Jiu-Jitsu into the martial arts world and creating a tradition that lives on today.
https://www.njbjj.com/wp-content/uploads/2015/12/caitlin-3rd.jpe
640
480
savarese
https://njbjj.com/wp-content/uploads/2016/02/Sav-Login-Logo-300x113.png
savarese
2015-12-11 21:50:48
2016-03-11 17:50:07
Medical student Caitlin McManus earns jiu-jitsu promotion