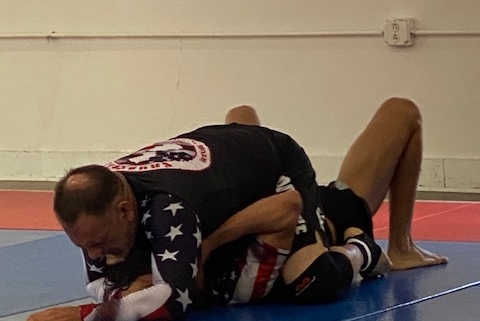 Mounted pinning-the next new trend in BJJ?
Mounted pinning-the next new trend in BJJ? You can make that case after watching the last couple of major events like WNO, Fight To Win and the recent ADCC Trials in all countries. Let by the New Wave BJJ team, aka The Danaher Death Squad and their BJJ fanatics videos, it seems everyone is following trend and pinning the upper body in the mount and smothering the face (aka Judo smothers). But to technique aspect of it, you only really control the pin when you control the elbows. Getting to a dominant pinning position in Jiu-Jitsu is a great thing. In addition, it scores more points than any other action if you can get to mount and rear mount. Understand however, that real dominance in top position pins comes not just from the position (in no gi) but the combination of the position AND control of your opponents elbows in ways that prevent him turning into escapes and setting up finishing holds so that you translate position into submission. Next time you are working your way into side of mounted pins, go the extra distance and start looking to control your opponents elbows as well. The more you can elevate and separate his elbows from his torso the more control you will have over the pin and the more likely that pin will turn into a submission hold. We love these positions at Savarese Jiu-Jitsu Academy (www.njbjj.com) and how they lead into submissions from the mount.
https://www.njbjj.com/wp-content/uploads/2022/08/mount-5-rotated.jpg
640
480
savarese
https://njbjj.com/wp-content/uploads/2016/02/Sav-Login-Logo-300x113.png
savarese
2022-08-24 07:00:06
2022-08-23 11:24:30
Mounted pinning-the next new trend in BJJ?