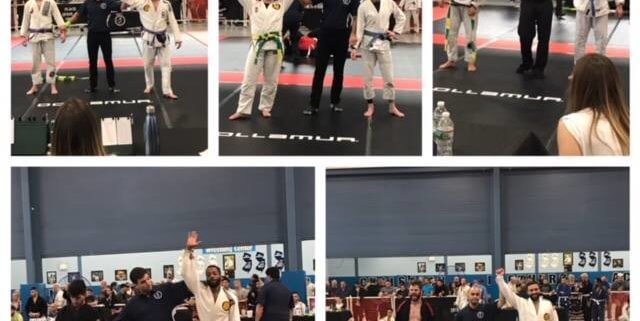 New Savarese Jiu-Jitsu Competition team members shine at NJBJJF
New Savarese Jiu-Jitsu Competition team shine at NJBJJF in NJ this weekend, 3 out of 4 coming home with medals. Professor Chris Savarese, the Academy owner and head instructor, had this to say after the tournament "Congrats to our new members for stepping up and competing for the first time alongside some of our vets and doing so well yesterday at the NJBJJF tournament. I am proud of you not just because you won but because you weren't afraid to fail and are seeking to learn more about yourselves. While I love when you guys and ladies kick butt in tourns, the ultimate goal to to learn more about ourselves and improve ourselves mentally as well as physically, the true meaning of jiu-jitsu. Thank you for representing us positively in battle and out. oss"
The vets leads the way
A couple of veteren members of the team led the way w/ Sean Yadimarco winning his purplebelt division, defeating all 3 opponents by submission along the way. Sean has been rapidly improving over the past year and in getting ready to compete in the World BJJ Championship in June in Long Beach, CA.
Kayla Zeppetelli also had a great day, stepping up to compete in the women's bluebelt division despite being only 14 years old. She came away w/ the GOLD medal in that division.
New Members results
Tom Calnan, competing for the first time, walked away w/ the silver medal in his bluebelt division, winning 3 of 4 matches, 2 by submission. Djendy Denot, competing for the first time as well, also won a silver medal, losing a controversial decision in the final where points weren't given on a referee mistake. Lastly, Josh Padilla also took a bronze medal in his very first tournament. Great job everyone!
https://www.njbjj.com/wp-content/uploads/2018/05/NJBJJF-18.jpg
640
640
savarese
https://njbjj.com/wp-content/uploads/2016/02/Sav-Login-Logo-300x113.png
savarese
2018-03-26 10:18:12
2018-05-14 11:38:10
New Savarese Jiu-Jitsu Competition team members shine at NJBJJF