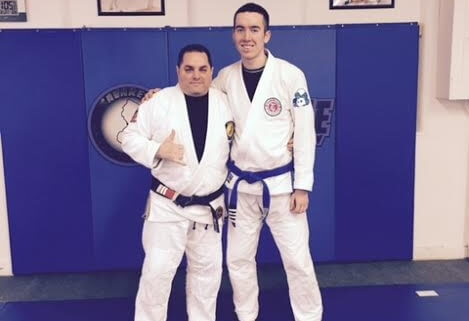 Pequannock Brazilian Jiu-Jitsu students earn promotion
Pequannock Brazilian Jiu-Jitsu students Dan, Pete and cousin Tom O'Connor were promoted by Professor Chris Savarese on Saturday. Dan earned the rank of bluebelt 4th strip, Pete bluebelt 3rd stripe  and Tom bluebelt 1st stripe. All 3 students train Savarese's student Chris Laciura at the Savarese BJJ affiliate school Training 4 Life Martial Arts (T4L), the top Pequannock Brazilian Jiu-Jitsu (BJJ) school. Dan is one of the top students in the program and is also an assistant instructor at T4L. Pete is one of the youngest adults in the program and many believe his potential is endless. He has made an incredible amount of progress in a very short amount of training time. Tom has just come back from a major injury and has picked up right where he left off as one of the best BJJ practitioners at T4L. All 3 students started under Laciura just a couple of years ago and all 3 have competed in the New Jersey Brazilian Jiu-Jitsu Federation (NJBJJF) and have won or finished in the top 3. They also train with Laciura at the Savarese BJJ Academy in Lyndhurst NJ, alongside some of the top grapplers in the world. If you are an athlete looking to compete on a high level or just someone who wants to learn self-defense and stay in shape, call the Training 4 Life Academy at (973) 839-9300 for a free trial class at the top Pequannock Martial Arts facility in the area.
Training 4 Life Academy
The Training 4 Life Team truly cares about your progress. It is their passion to share with you what has been so beneficial to them. They lead groups and teach individuals. This style of teaching goes beyond standing in front of the class and directing. In order to teach individuals within the group, you must be aware of every student's needs and that is their strength. Because people learn in different ways, teachers must have different methods to connect with them and they do! If you live in the Pequannock, NJ area, try a free class!
https://www.njbjj.com/wp-content/uploads/2016/02/Dan.jpg
625
469
savarese
https://njbjj.com/wp-content/uploads/2016/02/Sav-Login-Logo-300x113.png
savarese
2016-02-18 10:19:30
2016-02-18 17:31:17
Pequannock Brazilian Jiu-Jitsu students earn promotion