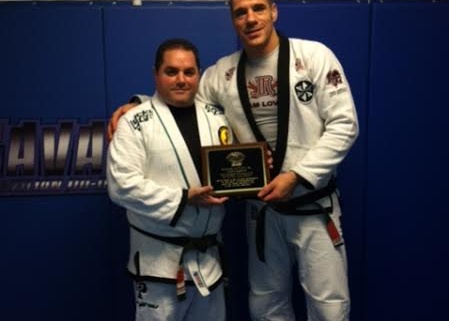 Professor Chris Savarese Interview
Here is a Professor Chris Savarese interview done by a college student about his views on training, promotions, competitions, MMA and a having a "no excuses, positive mind frame" outlook.
Chris Savarese is a 2nd degree Black Belt in Gracie Jiu Jitsu and a member of the Rafael Lovato BJJ association. he was one the first American BJJ practitioners to earn a black belt from the legendary Royler Gracie. He has traveled to Brazil to train at the world-famous Gracie Academy in Rio de Janeiro and has trained with some of the best BJJ practitioners in the world. He grappling resume' includes such wins in tournaments such as Grapplers Quest (3x), NAGA(2x), Tri-State Ground Control Classic, Yamasaki Tournament, NYC Grappling Challenge (2x) and USGA Tournament (2x).
Chris has worked in the field of Mixed Martial Arts (MMA) and grappling as a matchmaker, referee, competitor, teacher and sponsor. He has seen the sport from every angle.
Chris brings a no nonsense approach to teaching and a family atmosphere to the gym. Students are treated with respect, honor and loyalty. As a student you receive personal attention, you learn great techniques, and most importantly, you have fun doing it.
Savarese Brazilian Jiu Jitsu Academy
The Savarese Brazilian Jiu Jitsu Academy serves students as far as New Jersey, Pennsylvania and New York. Are you looking to learn Brazilian Jiu-Jitsu in New Jersey and its benefits of self-defense in a fun and friendly environment? Do you want to get in shape and be active? Do you want to give yourself the confidence to handle physical situations?
Savarese BJJ Academy is Northern New Jersey's premier Brazilian Jiu-Jitsu and martial arts school that offers practical self-defense training in a relaxed, friendly atmosphere. Students learn techniques to build their self esteem, get a great work out, and most importantly, defend themselves.
We offer both Adult and Kids programs! If you would like to try a free trial class, call 201 933-5134 or email professorsav@savtransfer.wpengine.com to set one up!
https://www.njbjj.com/wp-content/uploads/2013/05/raf-sav-award.jpg
601
449
savarese
https://njbjj.com/wp-content/uploads/2016/02/Sav-Login-Logo-300x113.png
savarese
2013-05-08 15:04:20
2016-04-18 13:40:16
Professor Chris Savarese Interview