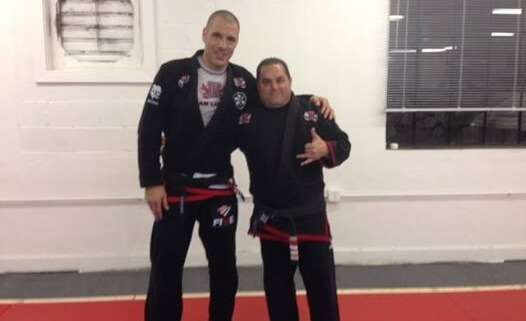 Professor Chris Savarese promoted to 2nd degree blackbelt
Congrats to Professor Chris Savarese on being promoted to 2nd degree on his blackbelt from Professor Rafael Lovato jr tonight! It is quite an honor because Savarese is now eligible to give blackbelts in Brazilian Jiu-Jitsu. Blackbelts are not allowed to promote students to blackbelt until they are a 2nd degree blackbelt. Professor Lovato and Professor Savarese both made moving speeches and it was a great night for everyone involved at the Savarese BJJ Academy last night!
Chris Savarese
Chris Savarese is now a 2nd degree Black Belt in Gracie Jiu Jitsu and a member of the Rafael Lovato BJJ association. A former brazilian jiu-jitsu compeitior, Savarese has traveled all over the world competing and training. He also traveled to Brazil to train at the world-famous Gracie Academy in Rio de Janeiro and has trained with some of the best BJJ practitioners in the world. His resume' includes such tournaments as Grapplers Quest (3x), NAGA(2x), Tri-State Ground Control Classic, Yamasaki Tournament, NYC Grappling Challenge (2x) and USGA Tournament (2x).
Chris has worked in the field of Mixed Martial Arts (MMA) and grappling as a matchmaker, referee, competitor, teacher and sponsor. He has seen the sport from every angle and brings those attributes to his teaching, where his is considered one of the top instructors on the East Coast by those in the BJJ community.
Savarese BJJ Academy
The Savarese BJJ Academy is located in Lyndhurst NJ and considered one of the best BJJ schools in NJ and has classes every day, afternoon and night. You can see the schedule here: http://savtransfer.wpengine.com/brazilian-jiu-jitsu-classes-lyndhurst-nj/ There are classes for men, women, teens and kids including women's only classes. Whether you want to be a top competitior or just want to train recreationally to better your lifestyle, we have classes for you. To try a free class, call the Academy to schedule an appointment. 201 933-5134.
https://www.njbjj.com/wp-content/uploads/2014/07/Sav-Raf-2nd-degree.jpg
394
526
savarese
https://njbjj.com/wp-content/uploads/2016/02/Sav-Login-Logo-300x113.png
savarese
2014-07-12 01:37:56
2016-05-06 15:10:42
Professor Chris Savarese promoted to 2nd degree blackbelt