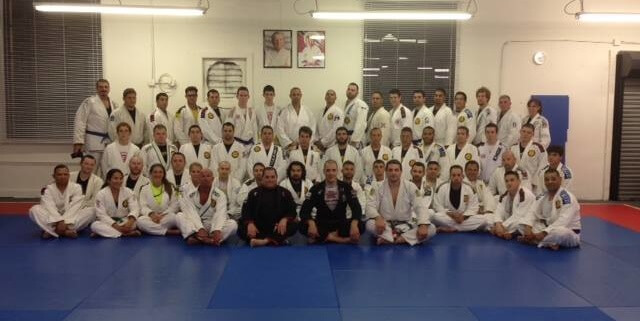 Rafael Lovato Jr Lyndhurst NJ seminar
What an amazing night tonight at Savarese Brazilian Jiu-Jitsu! We packed over 50 people for the Rafael Lovato Jr. seminar, the biggest one we have ever had. Professor Lovato showed some amazing techniques and ended the night in a special way for me by promoting Professor Savarese to 2nd Degree blackbelt! It has been an incredible ride being part of his team and I can't wait to see what the future holds. Thanks to Rafael and all my students and friends for sharing in this day. oss!
Savarese BJJ Academy
Brazilian Jiu-Jitsu (BJJ) is a unique martial art that focuses on grappling and ground fighting. BJJ practitioners utilize throws, trips, and sweeps to bring an opponent to the ground, where they have a variety of chokes and joint locks to bring an end to the altercation rather than using punches and kicks from a standing position. BJJ has its roots in Japanese Jiu-Jitsu and Judo. Japanese Jiu-Jitsu migrated to Brazil in the early 1900's, where it was learned and modified by the now-famous Gracie family. Central to this philosophy of combat that the Gracies helped develop is the idea that a larger opponent's advantages (reach and strength) can be nullified if he is taken to the ground. Thus, leverage and technique are much more important in the art of Brazilian Jiu-Jitsu than size and strength. Today BJJ has exploded in popularity all over the world, thanks to the efforts of Brazilian families like the Gracies and their cousins, the Machados. For a free trial class, please call 201 933-5134 to schedule one.
https://www.njbjj.com/wp-content/uploads/2014/07/Lovato-2014-2.jpg
480
640
savarese
https://njbjj.com/wp-content/uploads/2016/02/Sav-Login-Logo-300x113.png
savarese
2014-07-12 01:33:12
2016-05-04 16:00:19
Rafael Lovato Jr Lyndhurst NJ seminar