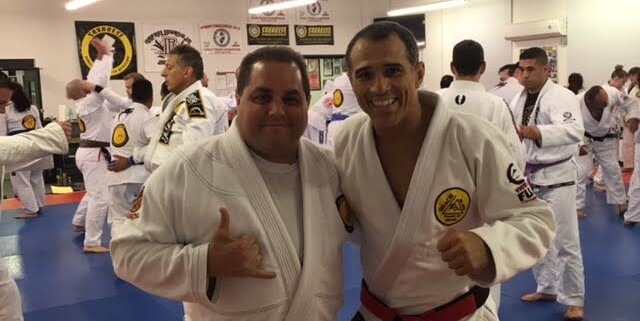 Royler Gracie Lyndhurst jiu jitsu seminar
Monday night, Royler Gracie held a jiu jitsu seminar at Savarese Brazilian Jiu-Jitsu Academy in Lyndhurst. The 4x World Jiu-Jitsu Champion and member of jiu-jitsu's first family taught for over 3 hours to over 50 people.
The Academy owner, Professor Chris Savarese, is a blackbelt under Gracie and a student of his for over 20 years. Savarese has this to say after the
seminar:
"Last night was great. It is always a great honor for me to have Royler Gracie teach at my Academy. His family changed the face of martial arts forever. When I started BJJ, I could have never dreamed I would earn a blackbelt and own a school.
He and  and David Adiv have taught me so much over the years and the learning never stops when they are here. I find myself like a white belt with 100 questions. I learned more about our art's history (my favorite part of Royler seminars are when he speaks of this) and how to be a better teacher.
The energy and passion that Royler teaches with even after over 40 years of teaching is amazing to me
Angelica Oliveira, who is such an awesome martial artist also deserves a shout out, as she so eagerly worked with all of the young women in attendance last night. She provides such an awesome example for them.
Everyone who was there last night is a better jiu-Jitsu practitioner today. OSS."
Royler talks family history
Gracie started the night by talking about his family's history and how the art was founded. The Master also spoke of how hard it is to run a school and how we should respect it. He then went into some great self defense techniques, followed by throws and escapes. Royler ended the night with some incredible ground techniques including a triangle setup and escapes to the kesa gatami (scarfhold) and arm triangle chokes.
If you are interested in training under Savarese, please call 201 933-5134 to set up your free private lesson.
https://www.njbjj.com/wp-content/uploads/2016/06/sav-royler-2016.jpg
640
640
savarese
https://njbjj.com/wp-content/uploads/2016/02/Sav-Login-Logo-300x113.png
savarese
2016-06-28 15:11:45
2016-10-25 16:59:17
Royler Gracie Lyndhurst jiu jitsu seminar