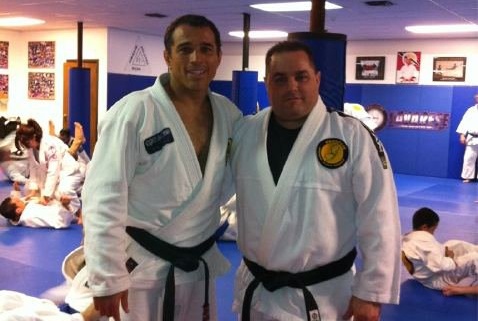 Royler Gracie teaches at Lyndhurst Jiu-Jitsu school
Royler Gracie teaches at Lyndhurst Jiu-Jitsu school! 4x World Jiu-Jitsu Champion and member of the Gracie Family Royler Gracie taught class at the Lyndhurst Jiu-Jitsu school Savarese BJJ Academy wednesday night. The class was attended by over 50 people as the son of Grandmaster Helio Gracie shared his knowledge with everyone. Also, the owner and head instructor of the Academy, Chris Savarese is one of Master Royler Gracie's blackbelt and is one of the 1st Americans to earn one.
Special night
Most noteworthy was the award given. Gracie awarded Savarese his "professor stripes" on his blackbelt, a very prestigious award in Brazilian Jiu-Jitsu that not everyone receives. Since it signifies that you have devoted your life to BJJ and the Gracies recognize your commitment to spread their family's art. Gracie announced that all students are now to call him Professor. Consequently, all of Savarese's student burst out in applause when the honor was given.
Savarese Jiu Jitsu Academy
Savarese BJJ Academy is northern NJ's most highly accredited Brazilian Jiu-Jitsu and Mixed Martial Arts (MMA) academy. Also, it has been home to several World nad Pan Am champions in both Brazilian Jiu-Jitsu and submission grappling. Therefore, many grapplers from all over the world come through our doors to train when they are in the area from BJJ and ADCC champions to UFC fighters. Finally, Savarese BJJ runs world class programs in Brazilian Jiu-jitsu and submission grappling.
Our instructors include Professor Chris Savarese, known in BJJ circles as one of the best BJJ instructors on the East Coast, Coach Sean Bermudez, who has coached our kids competition team to many team titles and Reza Freiza as wrestling coach. Freiza was once an Olympic hopeful in freestyle wrestling.
https://www.njbjj.com/wp-content/uploads/2011/04/royler-seminar-2011-2.jpg
640
478
savarese
https://njbjj.com/wp-content/uploads/2016/02/Sav-Login-Logo-300x113.png
savarese
2011-04-11 09:15:19
2016-12-14 12:46:10
Royler Gracie teaches at Lyndhurst Jiu-Jitsu school