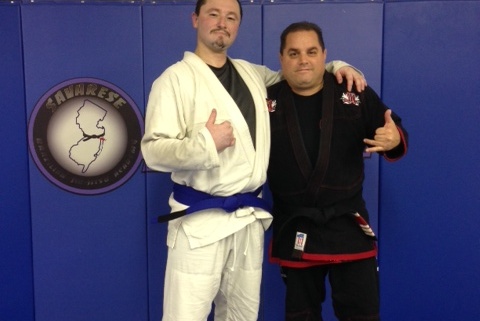 Rutherford resident earns Brazilian jiu-Jitsu bluebelt
Thursday was a great day for Boris Goldberg. The Rutherford resident earned his Brazilian jiu-Jitsu bluebelt from Professor Chris Savarese at the Savarese Jiu-Jitsu Academy yesterday. Goldberg has been training at the Academy for a little over a year, which is usually the hardest in most martial arts. Keep up the great work Bris, great things are ahead!
Brazilian Jiu-Jitsu near Rutherford NJ area
If you are looking to train Brazilian Jiu-Jitsu in the Rutherford NJ area, the Savarese BJJ Academy on Park Ave in Lyndhurst in your best option. The Academy is widely praised in the Brazilian Jiu-Jitsu (BJJ) community as one of the best in the country. Professor Chris Savarese, the owner and main instructor, is a 2nd degree blackbelt in BJJ and one of the 1st Americans to receive a blackbelt from Royler Gracie, the son of BJJ Grand Master Helio Gracie. The Academy has produced World BJJ Champions, local champions and won a bunch of Team Championship at local tournaments. That being accomplished with less than 10 % of the Academy competing. Known as "The Academy for everyone", people from all walks of life enter the Academy to learn self-defense, get in shape, be a world class competitor or to better themselves mentally.
The kids program is led by Savarese and one his blackbelts, Coach Sean Bermudez, who is the main kids instructor. The Academy has one of the largest kids BJJ programs on the East Coast and also won many team competition and individual championships despite competition not being the main focus of the program. At Savarese BJJ, we focus on the physical, emotional and mental well-being of our students. We call them"Life Skills." We provide our young students with the most powerful defensive skills so they will be ready to stand up against bullies. In addition, we assist our students with the development of characteristics and skills they will need in order to live a happy and balanced life.
Anyone who is interested in a free jiu-jitsu class, call 201 933-5134 or email professorsav@savtransfer.wpengine.com for details.
https://www.njbjj.com/wp-content/uploads/2015/07/Boris-e1459281513460.jpg
640
480
savarese
https://njbjj.com/wp-content/uploads/2016/02/Sav-Login-Logo-300x113.png
savarese
2015-07-14 17:06:01
2016-03-29 14:30:04
Rutherford resident earns Brazilian jiu-Jitsu bluebelt