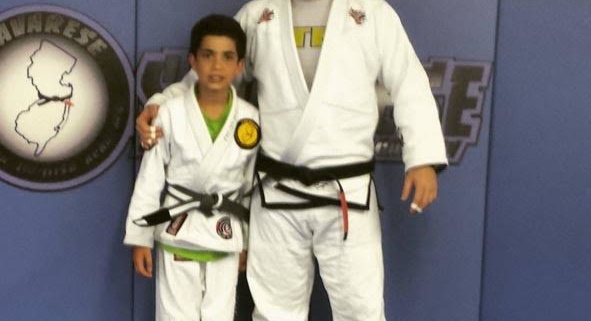 Rutherford resident Gabe Mendez received jiu-jitsu promotion
Rutherford resident Gabe Mendez received jiu-jitsu promotion at the Lyndhurst Martial arts school Savarese Brazilian Jiu-Jitsu on thursday. Congratulations to Gabe on earning his Junior Grey Belt from Coach Sean Bermudez, the head children's instructor at the Academy.today! It is a extremely tough rank for kids to earn in Brazilian Jiu-Jitsu (BJJ). It take a lot of dedication to make it that far. Great job Gabe, keep up the great work!
Martial Arts for Kids in Rutherford area
If you are looking for martial arts schools for kids in the Rutherford area, Savarese Brazilian Jiu-Jitsu Academy is your top option. The goal at Savarese BJJ is to boost the self-esteem of our students. Over 100,000 kids miss school due some form of bullying every single day in our country. Experts believe that fear of bullying may be the leading cause of low self-confidence in children. Statistics also say that less than 20% of kids actually report acts of bullying.  At Savarese BJJ, we focus on the physical, emotional and mental well-being of our students, the "Life Skills" as we like to call them. We provide our young students with the most powerful defensive skills so they will be ready to stand up against bullies. Our students develop confidence, discipline, courage, responsibility, and leadership among other important values. We promote non-violent resolutions to conflict. We aim to develop life-improvement skills as well as building the child's character in a positive way. Our belief is uncoachable kids become unemployable adults. We teach these skills in the most fun atmosphere possible.
Brazilian Jiu-Jitsu is also a fun, competition based sport if you child chooses to compete. We prepare students to compete as well in separate competition based classes and we have one of the top competition teams in NJ, winning 6 team championship in various tournaments over the last 3 years. For a free trial class call 201 933-5134 or email professorsav@savtransfer.wpengine.com for more info.
https://www.njbjj.com/wp-content/uploads/2015/07/Gabe.jpg
585
591
savarese
https://njbjj.com/wp-content/uploads/2016/02/Sav-Login-Logo-300x113.png
savarese
2015-07-30 19:27:30
2016-03-18 10:55:51
Rutherford resident Gabe Mendez received jiu-jitsu promotion