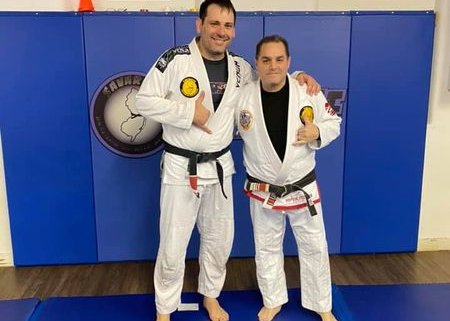 Savarese BJJ instructor gets promoted
Savarese BJJ instructor gets promoted
Savarese BJJ instructor gets promoted as Professor Anthony Del Guercio received the 1st degree on his blackbelt from Professor Savarese. Anthony has the "no excuses" mindset as his is a trial laywer by day and teaches BJJ at night in search of continued self-improvement. Professor Savarese has this to say
"Congrats to Professor Anthony Del Guercio on receiving the 1st degree on his blackbelt today. Another instructor filmed it but i wanted everyone to see and hear my words and thoughts about him and for any student not in class today to hear. Anthony has become an amazing blackbelt and instructor, he is a vital piece of our academy, and frankly, we wouldn't have survived without him. He has helped make our Academy better than it has ever been and I am so glad he is a member of our team. He deserves all the goodwill that comes his way because he is so selfless when it comes to helping our students. He is a blackbelt in every aspect of life. Oss."
Anthony Shares his thoughts
Today, I had the honor and privilege of receiving my first degree on my back belt. Words cannot describe how much this means to me.
For those who may not be aware, jiu jitsu has been an important and necessary part of my life for a long time now. If not for jiu jitsu, I would still be morbidly obese. If not for jiu jitsu, I wouldn't have made it through one of the darkest, hardest times in my life. Jiu jitsu as a sport, self-defense art, and as a lifestyle has become a part of me and made me a better human being. Stated simply, jiu jitsu changed and bettered my life in ways words cannot describe.
As for my teammates, these people have trained and bled with me. They've become friends and family. They are constantly making me better, testing me, and helping me grow.
However, I must do a special shout-out to Professor
Chris Savarese
, a true instructor and mentor. Professor Sav had so many nice things to say about me today that I choked up and a few tears snuck out (those who know me know I don't cry often or easily). While I appreciate everything he said, I have to remind people that, from personal knowledge, Professor Sav has one of the biggest hearts I know. He legitimately cares for each and every one of his students. Putting aside his pedigree and more than ample qualifications, his dedication and loyalty to the school and his students, both on and off the mats, is unmatched and greatly appreciated. It's truly a rarity to find such heart and compassion coupled with skill and ability. His personal sacrifices to keep the school and, to many, a sanctuary, running all these years, especially during this pandemic, are not lost on us. I truly hope that everybody who trains has such an instructor. Many thanks for all that Professor Sav has done and sacrificed so that we all have a place to train and grow as jiu jitsu practitioners and human beings.
One final reminder to those who are thinking of training jiu jitsu, and as Professor Sav always says, if you want to do something, you will find a way. If you don't, you will find an excuse. Stop making excuses. Get on these mats at Savarese Jiu Jitsu. Become a better you. I promise. You will not regret it.
You, Kayla Zep, Sean J L Bermudez and 105 others
Sean J L Bermudez, Leo Alves and 96 others
https://www.njbjj.com/wp-content/uploads/2020/12/Ant-1st-degree.jpg
600
450
savarese
https://njbjj.com/wp-content/uploads/2016/02/Sav-Login-Logo-300x113.png
savarese
2020-12-28 07:32:52
2020-12-28 07:32:52
Savarese BJJ instructor gets promoted