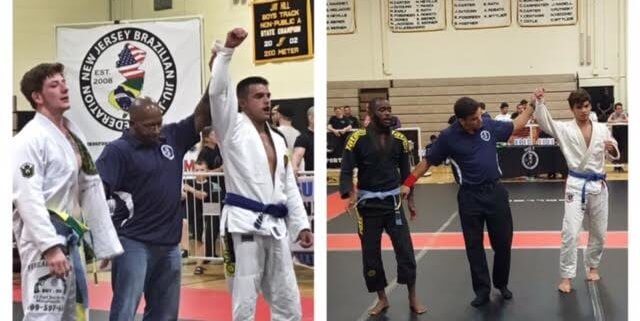 Savarese BJJ students split NJBJJF Absolute championship
Students of the Savarese BJJ Academy split NJBJJF Absolute championship last Saturday in Homdel NJ. "Handsome" Mark Garcia and 16 yr old Leo Alves, both won 3 matches to advance to the finals of the tournament. The New Jersey Brazilian Jiu-Jitsu Federation (NJBJJF) Summer Open was held among close to 50 Brazilian Jiu-Jitsu schools in across the tri-state area and from schools from Maryand and Delaware. Absolute divisions are the most prestigious to win because the Absolute division has no weight limit. Garcia and Alves decided to split the division instead of teammates fighting. This is a common occurrence in BJJ when teammates make the finals of a tournament that doesn't have a monetary prize. Making their victories even more impressive was the fact that the 2 were the lightest in the division.
Garcia is a real up and comer on the tournament scene. Mark also won his division at the NY Open, the toughest East Coast toughest each year. Look out for Mark in the future.
Alves is also becoming a big name on the tournament scene. Savarese Jiu-Jitsu has 3 teenagers (Alves and fellow teammates Sean Yadimarco and Ariana Zeppetelli) who have consistently fought in adult division over the past year and won gold medals vs adults. Each of them had excellent showings in the World BJJ Championship in CA in July. Winning an adult Absolute title at only 16 yrs old is a major accomplishment for Alves.
NJBJJF Tournament
Fernando Sarmiento, a BJJ blackbelt, created the NJBJJF tournament in 2008. This Federation was established to bring the best competition in Brazilian Jiu Jitsu to New Jersey.  The mission of the NJBJJF is to bring together those academies, teams and individuals searching for a traditional Brazilian Jiu Jitsu championship and help spread our art.
The rules used in this event follow the traditional rules utilized by the IBJJF. NJBJJF's greatest objective is to preserve the integrity of the competitors and to give our spectators a true show.
Anyone interested in joining the Savarese BJJ Academy, call 201 933-5134 to set up a free intro class.
https://www.njbjj.com/wp-content/uploads/2016/08/mark-leo-collage.jpg
640
640
savarese
https://njbjj.com/wp-content/uploads/2016/02/Sav-Login-Logo-300x113.png
savarese
2016-08-26 11:48:54
2016-12-07 12:04:35
Savarese BJJ students split NJBJJF Absolute championship