Savarese BJJ's great tournament showing
Savarese BJJ's great tournament showing was on display saturday at a Brazilian Jiu-Jitsu Tournament in NJ. It was a great day for the Savarese BJJ competition team today at the NJBJJF (https://www.njbjjf.com/).
Tuning Up for World Championship next weekend
Leo Alves, Sean Yadimarco, Caitlin McManus and Ariana Lynn wanted to tune up for the Worlds in 2 weeks and came up pretty well. Leo continues his submission streak w 2 more subs. He has won 9 of his last 10 matches by submisson. He closed his division w Sean, who had his best tournament of 2017 so far imo. Caitlin also won her division. Ari dominated her first match, losing in the finals by a refs decision.( btw, we haven't won a refs decision at the NJBJJF in 2 yrs).
Rest Of The Comp team
Congrats to William Pike, from our Training 4 Life team who showed some mental toughness that I always like to see. Will had a tough day at the Big Apple Open 2 weeks ago and came back strong today to earn a silver medal in his division, winning his 1st match by over 20 pts. Our little beast Kayla Zep bumped up and took silver in her division. Anthony Del Guercio had a good match too unfortunately suffering a knee injury that we hope isn't serious. Also congrats to Babatunde Ojo who finished strong but came up short. Also congrats to our kids, w 10 kids competing, 8 took gold or silver.
Kids results:
Reagan Roxas gold,
Antonio Santiago gold,
Mateo Santiago gold,
Brandon Adragna gold and silver,
Taylor Adragna gold and silver,
Mikey Carreira silver,
Angelina Pettigano silver,
Angelina Velastegui silver
Kaylee Carreira bronze
Sophia Velastegui bronze
I always tell the team, I am always so proud of those who put it on the line, not because of your success but because you aren't afraid to fail. Competition success come with great sacrifice and many of you showed great dedication to improving. Oss.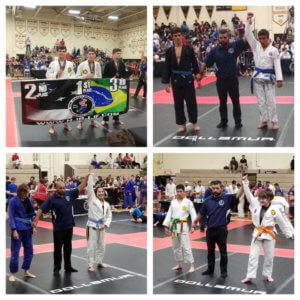 https://www.njbjj.com/wp-content/uploads/2017/05/NJBJJF-Bottom.png
772
851
savarese
https://njbjj.com/wp-content/uploads/2016/02/Sav-Login-Logo-300x113.png
savarese
2017-07-03 13:19:32
2017-07-03 13:19:32
Savarese BJJ's great tournament showing