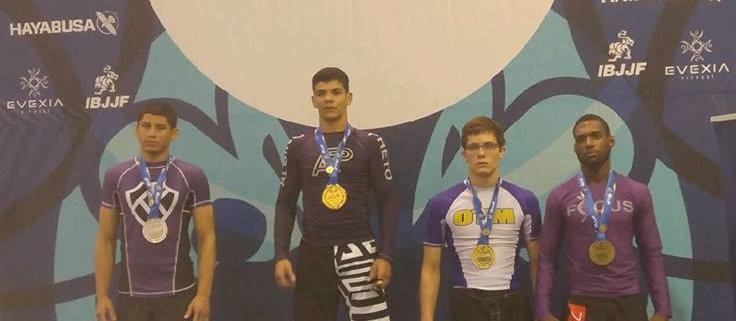 Savarese BJJ's Yadimarco takes bronze
Savarese BJJ's Yadimarco takes bronze! Sean Yadimarco, the Lyndhurst Martial Arts student, took 3rd place at the prestigious 2017 No-Gi Pan Am held in NYC this weekend. (http://ibjjf.com/2017/09/2017-pan-no-gi-partial-results/) Yadmiarco, a purplebelt under Professor Chris Savarese won 3 matches in the lightweight purplebelt class before losing to World silver medalist Italo Azevedo.
Kudos from his Professor
Savarese had this to say about Yadimarco…."Really proud of this kid right here. He is dedicated to his craft and is constantly testing himself and trying new things to get better. He placed 3rd in the no-gi Pan Am today despite being a purple belt for only a couple of months. I expect him to grow from his experience today and come back stronger. What a fantastic job he did today! We are so proud of him, he trained very hard for this!
Savarese BJJ Competition Team
Yadimarco is one of the leaders of the Savarese BJJ competition team, one of NJ's best. He will next be fighting onthe Fight To Win 51 in Brooklyn NY. That card will feature ADCC champion JT Torres taking on former UFC Champion Ben Henderson in the main event, with No-Gi World Champions Justin "Darth" Rader from Lovato BJJ in Oklahoma vs Gianni Grippo of Marcelo Garcia in the co main event. Other events the team will be competing in soon are the Kasai Fighting Champion in October and NJBJJF on Nov 5th.
https://www.njbjj.com/wp-content/uploads/2017/10/Sean-Y-2017-No-gi-Pan.jpg
960
736
savarese
https://njbjj.com/wp-content/uploads/2016/02/Sav-Login-Logo-300x113.png
savarese
2017-10-03 12:49:17
2017-10-03 12:49:17
Savarese BJJ's Yadimarco takes bronze