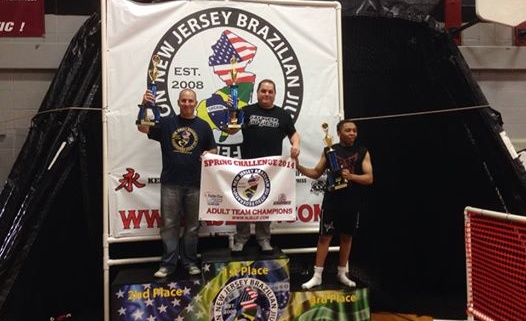 Savarese Jiu-Jitsu Lyndhurst wins NJBJJF Spring Challenge Team Championship
 Words cannot describe how proud I am of my students, many competing in their 1st tournament, for having the courage to test themselves and face their fears and put their skills to the test at the NJBBJF tournament. Their efforts earned us the Team Championship! We are the NJBJJF Spring Challenge Champions!!! All 15 people who put it on the line medaled!! 100%!!! Congrats to the following:
1) 1) 
Frank Sorisi
 -1st Place Bluebelt Middleweight and Bluebelt ABSOLUTE CHAMPION! (Absolute means no weight limit)
2) 
Bryan Brown
-Bryan moves up 2 weight classes to not compete w/ teammates and wins the bluebelt HWT division beside being 160lbs!!
3) 
Anthony Del Guercio
-1st Place Purplebelt light hwt. Ant defeated all his opponents and the ref who was a teammate of 2 guys he fought. Some of his matches took me back to the 90's.
7) Leo "The Lion" Alves – Leo took 3 Gold Medals!!! in his first tournament including armlocking a state wrestling medalist in 35 seconds!!
8) 
Kayla Zep
 Our only kid competing today, Kayla overcame her nervousness to win 2 Gold Medals, winning her gi and no-gi divisions
9) @Ariana Zeppetelli- 1st place teens division, then jumped into womens bluebelt and lost in the final to one of the top womens competitors in the country on a negative point. great job Ari!
10) Andrew Zeppetelli 
Tree Zep
– 3rd Place mens bluebelts Master middleweight but more importantly, stepping up to compete and set a great example for his daughters, leading by example.
11) 
Lizette Sopko-Givens
 -2nd Place Womens bluebelt in her first tournament! So proud of you for taking this step in your journey!
12) 
Caitlin McManus
 – 2nd place womens whitebelt lightweight who showed a lot of heart by coming from
a 6-0 deficit in her 1st match to come back and win 10-6! Awesome job Caitlyn!!
13) Myko Perevicius- Myko has gotten so much better in the last 2 months and as a result, showed it today taking 2nd place in the teens yellowbelt division. Myko lost a tough match in the final by refs decision.
14) 
Andrew Kuntz
 took 2nd place in the gi and no-gi in lightweight whitebelt and was so impressive. He was aggressive in all his matches, hitting a takedown 
Justin Rader
 showed at a seminar last week TWICE and showed some slick skills. he has a bright future!
https://www.njbjj.com/wp-content/uploads/2014/05/Sav-podium.jpg
394
526
savarese
https://njbjj.com/wp-content/uploads/2016/02/Sav-Login-Logo-300x113.png
savarese
2014-05-19 01:21:09
2016-12-13 16:39:44
Savarese Jiu-Jitsu Lyndhurst wins NJBJJF Spring Challenge Team Championship