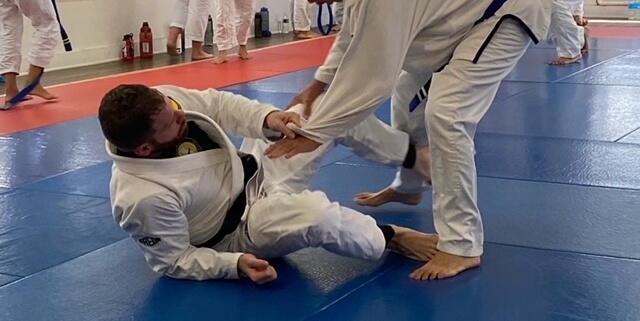 Tension and Fear in BJJ
Jiu-Jitsu asks you to walk the line between tension and fear in BJJ, especially when it comes to new things. Learning is often difficult. If it wasn't, you'd already know everything you needed to know. Any time you try to learn something new, whether it's a total paradigm shift or just adding important details to something that's already there, it's easy to get stuck.
What sticks you to the spot isn't fear of something new or fear of change, even though both of these are charges often levied at the burden of learning. It's the tension of uncertainty, the competing concerns between "will this work" and "this might not work". It's the stress of wondering whether if I learn this, will it benefit me…or distract me? In my experience, this tension is the hallmark of a great educational experience. A truly new idea or experience places you on a threshold – where you used to be vs. where you are going. You may sometimes expose yourself to a little tension willingly, but often we hesitate when we have the opportunity to learn something new. It doesn't have to be this way. You can choose to actively seek out this pressure, the experience of being on the threshold and seeing the next few steps without seeing the whole staircase. When you do, you let what's new push over you over the edge and out onto the other side. here at Savarese BJJ Academy (
www.njbjj.com
), this is something we often talk about.
https://www.njbjj.com/wp-content/uploads/2023/03/grips-sean-pops.jpg
640
640
savarese
https://njbjj.com/wp-content/uploads/2016/02/Sav-Login-Logo-300x113.png
savarese
2023-03-10 07:01:40
2023-03-09 14:05:34
Tension and Fear in BJJ